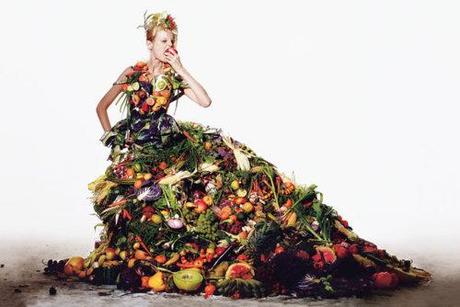 Fashion News: Going green. Here's a question, what did they do with her "dress" after the shoot? Looks like a total waste of veggies to me.
- PopThreads
refashioner:
NYtimes piece entitled 'Salad Days' mentions that 

" 'green' is now rooted in fashion's soil — and soul. Designers from Dolce & Gabbana to Trussardi have exalted healthy living and celebrated the pleasures of abundance by heaping their runways with fruits and vegetables."

Um, yes but how could they leave out the other clear and obvious meaning to what 'green' is in fashion now — that is the ever-growing awareness of and promotion for sustainable fashion?