This past weekend marked the end of Hollywood's "most eligible bachelor", George Clooney's reign. After his first marriage to actress Talia Balsam in 1989, George Clooney has been seen with many beautiful women on his arm, but has managed to avoid the phrase "I do", until now. The woman who captured George's heart is Amal Alamuddin. She is a criminal/human rights lawyer, who is as fashionable, as she is intelligent. Of course, George Clooney is no slouch in the fashion department himself.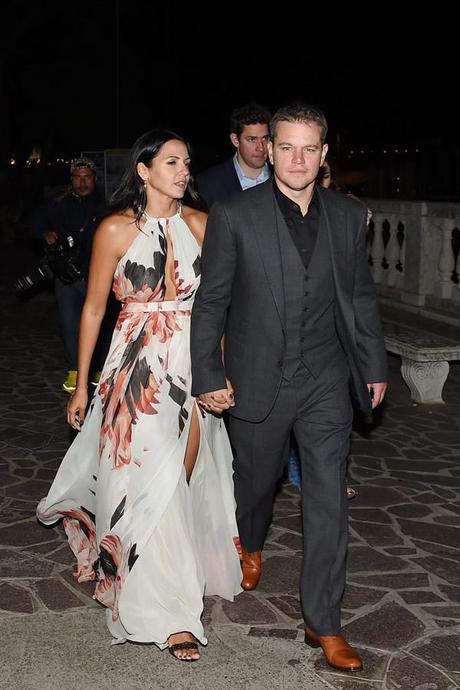 Starting on Friday, September 26th, Hollywood's finest started arriving for the three day extravaganza. The first photo is George's pal Matt Damon and wife Anna Wintour, who looked stunning at the rehearsal dinner. Matt is sporting a charcoal grey, three-piece suit with a black button-down, and saddle brown oxfords to shake it up a little. His lovely wife Anna looked fantastic in this sheer, white paneled gown with an exploded floral pattern in brown and black, a spit neckline with a halter style top, empire waistband, and a deep leg split.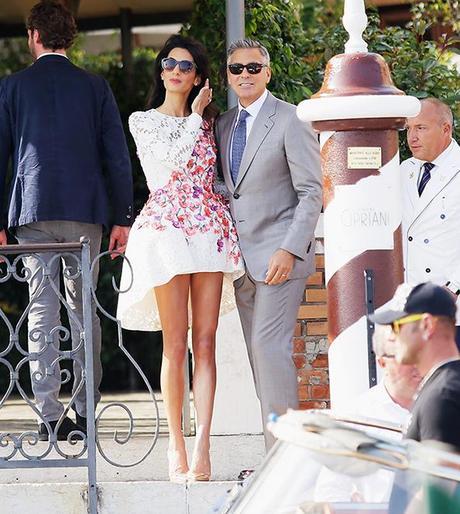 Next, is a photo of the happy couple themselves, George and Amal, at the Hotel Cipriani in Venice post their high security night of nuptials, for which the actual ceremony photos were just released to People Magazine today. George Clooney looks dashing in his light grey suit with marine blue tie and dark shades. Amal is very trendy in this white lace, high-low hemmed dress with colorful floral appliqué. The style showcases her long legs, but might be a little un-nerving in windy weather.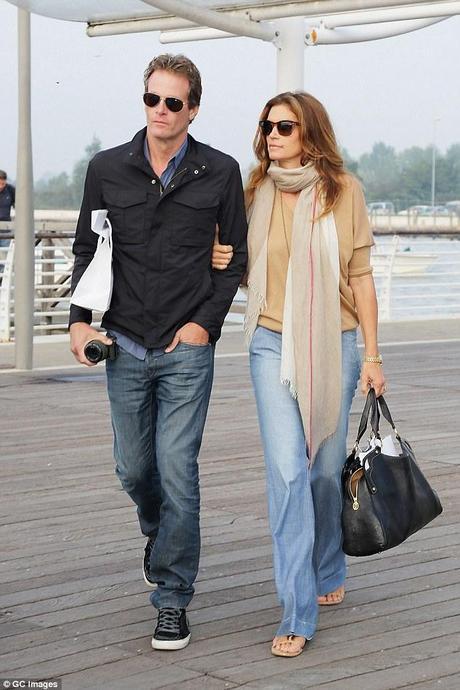 Lastly, Best Man Randy Gerber and supermodel/wife Cindy Crawford have opted for quiet glam as they make their way home from Venice. Randy has layered a blue and black button-down, pairing it with jeans and black sneakers. Cindy adds some flair to her blue jeans with a camel-colored v-neck sweater, a sheer tan scarf, and a black leather catch-all tote.