As the 51st Annual Academy of Country Music Awards rolled into the MGM Grand Las Vegas on Sunday April 3, country music's celebrated artists and those who supported them walked up the red carpet. This fashion parade before the awards brings out elegant, opulent, and unique looks in both the men and women who attend.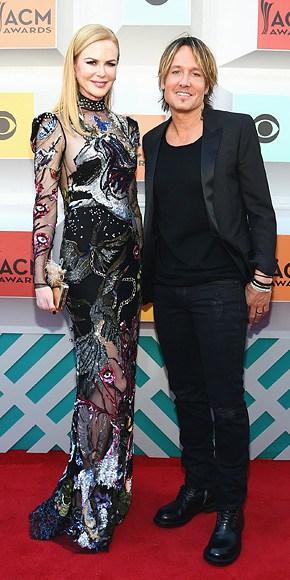 In the elegant category, is actress Nicole Kidman and singer/husband Keith Urban. Keith was presented with the Mae Boren Axton Award for 2016, which honors an individual in the country music industry who has been dedicated in service to the ACM. Nicole was there to celebrate in a stunning Alexander McQueen gown with colorful graphic images, shimmering sequins, and sheer mesh that was strategically placed to not show too much. She stood proudly and lovingly by her husband Keith, who looked the part of the "Country Music Artist" in his black suit jacket, baggy black t-shirt, and distressed black jeans. The monochromatic look seems to be a popular one at this ceremony.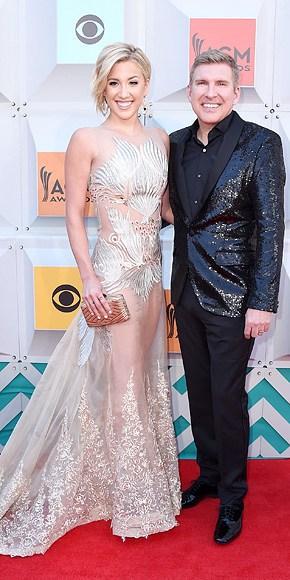 For the opulent fashion category, take in entrepreneur/reality show producer Todd Chrisley and his daughter Savannah. Todd, who was the red carpet correspondent for Access Hollywood, looks a little too much like a Liberace in his black sequined tuxedo jacket. Even with the black column dressing and casually buttoned dress shirt, it is not enough to tone down this outfit. Todd's daughter Savannah, however, looked like a Greek goddess in her sheer, flesh-tone gown with the feather-like swirls to camouflage essential figure areas, and her genuinely happy smile.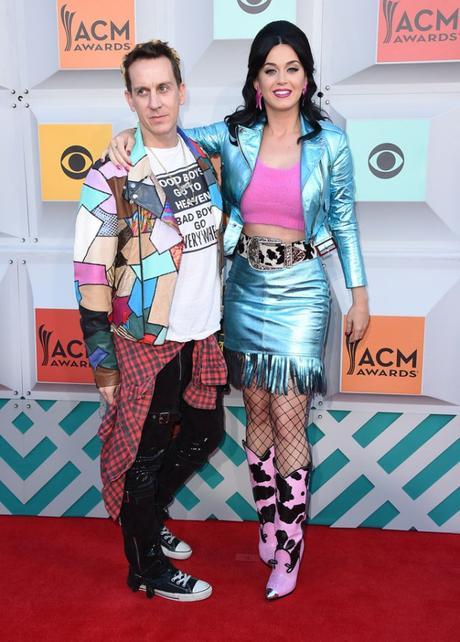 As far as the unique fashion category goes, the winner has to be singer Katy Perry and fashion designer Jeremy Scott. Katy arrived on the red carpet of the 51st Annual Academy of Country Music Awards in a one-of-a kind, Jeremy Scott Couture creation that took baby blue metallic and cowgirl-wear to a new level in this cropped jacket, fringed skirt outfit that was completed with stiletto-heeled, pink cowboy boots. Katy's designer and date for the evening Jeremy Scott was strutting his "fashion poetic license" by mixing colors, patterns, and styles. For me, Jeremy had more of a "yard sale nightmare" feel, than a designer of Couture.