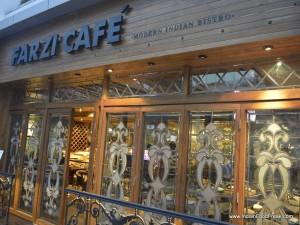 Farzi Cafe Gurgaon Exteriors
Which of Indian cuisine will make it to the Global charts? Perhaps all! Indian cuisine is very vast and serves variety of palate, what it lacks is on the presentation and at times flavors of masalas overpower the main ingredient. There have been attempts in the past to bring innovative and molecular twist to the cuisine which has reached rich dividend to my favorite, Indian Accent, and some have boomed, like Shroom (This was molecular though not Indian).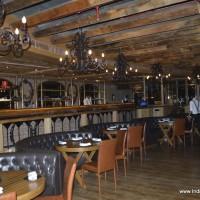 Farzi Cafe Bar
Farzi is an Urdu word meaning non original, not genuine or fake, and I am at Farzi café for a preview that will shortly open (20th Jul'14) for public. The décor at Farzi is something that deserves a second glance, or may be third and fourth too. A big 55mtr bar, teak wood tables, real wood flooring, comfortable yet chic interiors, a 120-seater yet spacious feel, a raised stage for live gig, faux grass walls, and much more; it certainly doesn't look like any other café.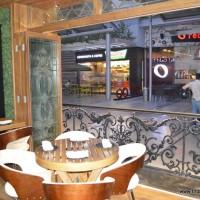 Farzi with windows open
The most intelligent part of the décor is the external façade that opens up to nature; giving a feel of sitting in the open while enjoying the air-conditioned comfort. Zorawar Kalra, owner at Farzi tells me that they have used 50 tonnes of air-conditioning in approx. 4000 sq ft, which makes its presence felt from the chill that has to be tone down. "The music will get loud post 10.30pm" adds, Zorawar Kalra.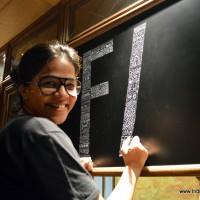 Aditi completing wall art
The place has lot of handmade twist, be it be the logo, menu or the way Aditi, their professional calligrapher is completing the wall art when I visited. Undoubtedly lot of thoughts have gone behind in creating the high energy, aptly lit atmosphere at this café that can even put detailing of some of the fine dine outlets at shame.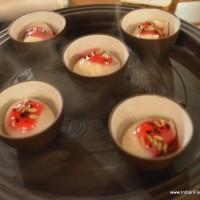 Mishti Doi Shot
Farzi is based on a concept of modern Indian bistro serving lots of Tapas style (finger food) menu that can easily be accompanied with drinks. Coming on to the menu, a lot of dishes are planned for the media sampling, and we start with the amuse bouche (a small complimentary appetizer), Mishti Doi Shot made with reverse spherification and served with strawberry coulis and panchforen masala; A lovely way to start with mishti doi gel bursting in the mouth and cleansing the palate. Normally reverse speherification gives a tad thick membrane; surprisingly this one is just apt.
Wiki: Spherification is the culinary process of shaping a liquid into spheres which visually and texturally resemble caviar. The technique was originally discovered by Unilever in the 1950s and brought to the modernist cuisine by the creative team at elBulli under the direction of executive chef Ferran Adrià. Reverse spherification, for use with substances which contain calcium or have high acid/alcohol content, requires dripping the substance into an alginate bath.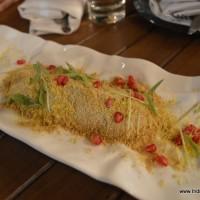 Bhel Puri
If you are fond of chaat, don't miss Farzi Café version of Raj Kachori (Rs 210). Mini crisp raj kachori's filled with crisp okra salad topped with foam that taste of meethi chutney is a sure shot winner. I did not imagine eating a cold panjeeri textured dish that tastes just like our bhelpuri (Rs 210). Used making liquid nitrogen, this is again a dish that is not only addictive but will surprise many guests too.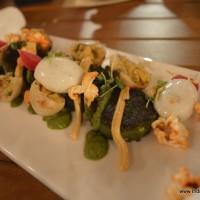 sarson ki gilawat
Are you a fan of makke ki roti and sarson ka saag washed down with chaach? Try Farzi's café sarson ki gilawat (Rs 275) with corn and cheese tostada and a buttermilk balloon. All ingredients served in a plate, can easily be relished with a spoon. Just a little white butter on the side and it is a complete dish for me. Even for palak paneer lovers, palak paneer pao (Rs 225) is a must try. A pao made of spinach, filled with paneer bhurji, these are some of the dishes every Indian has eaten but not in this form.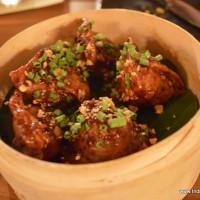 Duck Samosa
A crisp and thin samosa filled with tender duck (Rs 350) and quickly tossed with chilly hoisin sauce on a high flame to retain the crunchiness is another one of the interesting take on our humble samosa.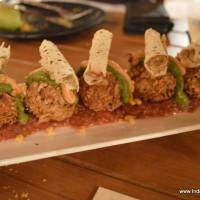 dal chawal arancini
And those who think nothing innovative cannot be done to our daily dose to Dal-chawal, they should try the dal chawal arancini (Rs 225) that has been coated with panko-papad mix before frying.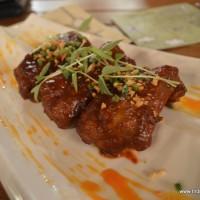 Chilli Pork Ribs
The spare ribs are cooked to perfection for over three-hours on pre cook mode to deliver a falling off the bone meat rubbed with bhoot jalokia (one of the fieriest chilly in the world), however the heat in it has been kept low to appeal to the messes. If it is bhoot jalokia then I want to get the sweat. The feedback is well taken. So when the menu is launched the name will change from 'Hottest Spare Ribs in bhoot jalokia' to 'Chilli Pork Ribs' (Rs 395), and at this price it is a steal.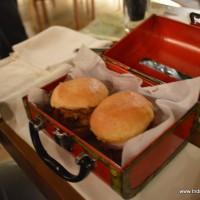 galauti burger bun
The dishes are too many and I have a little tummy (I hope you haven't seen me), that makes me move from 'eating' to 'tasting' mode. The galauti burger bun (Rs 395) is excellent and complementing the bun is the roast tawa boti that retains its bite.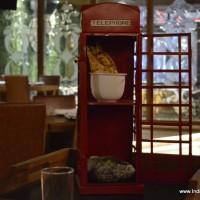 Chicken Tikka Masala
For the mains we move on to the Chicken Tikka Masala (Rs 495) with cornish cruncher naan. Served in a telephone prop signifying London's national dish, it is a hearty meal cooked to perfection. I can complete my meal on this dish alone, if there isn't any further tasting.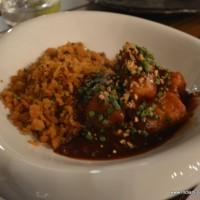 Pha Pad Thai with Red Snapper
If you have always tried Gujarati poha, then Poha Pad Thai served with wok tossed red snapper (Rs 575) is a flavorful take on simple poha with Thai flavors intoxicating the nose. Red snapper is a welcome addition, while I am happy just with the poha too.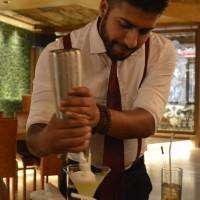 Apple foamintini
The cocktails are interesting but the molecular twist to the drink is missing, atleast on the ones that I tried.  Smoked GJT is a Smoked Gin mixed with Jasmine Tea Decoction. The first sip is a little too smoky but mixed with a little more jasmine it tastes brilliant. Incredible Velvet Martini has Vodka in red wine reduction mixed with fresh grape puree and lemon Juice. I enjoyed Farzi's Apple foamintini  is another vodka based cocktail with fresh green apple extract mixed with elderflower syrup and mint foam on the top. All priced upwards of Rs 355, anyone looking to experiment would enjoy them.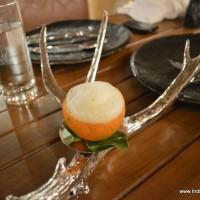 orange and kaffir lime aire
For desserts if you literally want to tell your friends, "Ja hawa kha", try the nasik orange and kaffir lime aire (Rs 150). A refined version of something similar to Makhan Malai also popularly known as Daulat ki Chaat in Delhi, it is a froth served in orange skin that disappears as soon as it is popped in the mouth leaving a sweetish-citrusy flavor.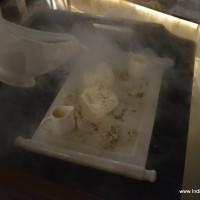 Phirni Oxide
Phirni oxide (Rs325) has lot of drama with nitrogen smoke flying all over, however it misses the true blue phirni flavors. This is still the preview phase. Since all other dishes have almost been perfected, I am sure Farzi Café will work on this too. Don't miss to end the meal on complimentary served Pan Gujiya; a new twist to the dried pan being served at most places these days.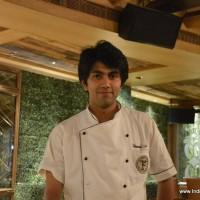 Chef Himanshu Saini
The menu is pretty impressive with some interesting options. This kind of menu is to be prepared fresh. So what remains to be seen – would the chefs be prepared to handle crowds once it is open to public? Such food also needs to be eaten quickly and hence normally molecular gastronomy is normally seen in a fine-dine. Would the youngsters busy with their long conversations and focus on drinks if they will be able to relish it as much as we did.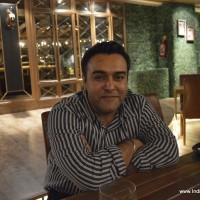 Zorawar Kalra
Farzi café has a dream location, pricing of a small restaurant, energy of a pub, detailing of a fine dine and opulence of a luxury cruise. The concept of progressive cuisine has been nailed to perfection by Chef Himanshu Saini and Zorawar Kalra and many new innovative dishes and drinks are here to be savored. This Farzi has redefined the definition and it is now the new authentic.
Ratings (Out of 5)
Food: 4.5 | Drinks: 4.0 | Ambience: 5.0 | Service: NA (Not rated as the experience was on a special setup when the restaurant was not operational for general public) | Overall: 4.5
Meal for Two: Rs. 2500 | Credit Cards: Yes | Timings: 12 noon to 11.30 pm | Wheel Chair Accessible: Yes
Address: Farzi Café, Ground Floor, Cyber Hub, Gurgaon | Telephone: 0124-4922273-74, 88006-90418/19
Farzi Cafe Gurgaon Exteriors
orange and kaffir lime aire
Pan Gujiya
Phirni Oxide
Parle G Cheesecake
Steamed Rice Khausuey
Pha Pad Thai with Red Snapper
Tandoori Gocchi Risotto
Chicken Tikka Masala
Telephone booth prop
Zorawar Kalra
galauti burger bun
Burger Box
Pork ribs came clean after eating
Chilli Pork Ribs
Vada Pav
PRAWN TEMPURA
Mini BLT Pao
Apple foamintini
dal chawal arancini
Apple foamintini
sarson ki gilawat
Duck Samosa
Palak Paneer Pao
Chef Himanshu Saini
Bhel Puri
Raj Kachori
Mishti Doi Shot
Bill Folder
Aditi at Work
Aditi completing wall art
Farzi with windows open
Farzi Cafe Bar
Farzi Interiors
The long bar
Faux Grass Walls