When winter is dragging me down I have to remember that even though I can't have a juicy, sweet, bright red tomato, winter has its own gifts from the ground and I need to work with that. I'm going to share a really easy recipe with you that you likely already make, but the story behind it is really the best part.
The company I work for (Steelcase) brings in different internal and external speakers for an ongoing series we have called Curious Minds. Last summer, they held a Curious Minds event to launch a new mobile farmer's market that would be visiting us each week, called the Veggie Van. The Veggie Van is part of our Grand Rapids YMCA community outreach efforts, and the purpose is that they bring fresh fruits and vegetables to urban areas where they might otherwise not have access while supporting local farmers by selling their produce. To help keep this program sustainable from a cost standpoint, they visit locations like my workplace, hoping we will spend more than the people in the urban areas. Not only does the Veggie Van have local produce, but they come up with their own fancy recipes (in the fall my favorite was butternut squash risotto) and they also sell things like local raw honey, maple syrup, and cheddar cheese.
I look forward to shopping there each Thursday afternoon! Lately I've been buying root vegetables to roast. It's really easy and delicious! I use beets, carrots, potatoes, and onion that I buy fresh from the Veggie Van.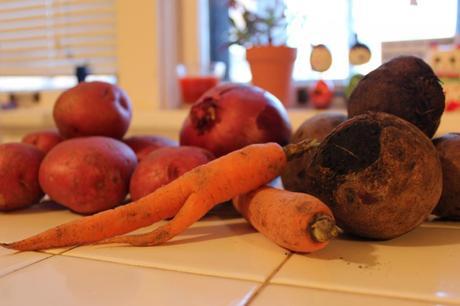 Preheat your oven to 450 degrees and cover a baking sheet with parchment paper. Wash, peel, and/or cut everything into bite size-ish chunks and place in a large bowl. Cover your veggies with olive oil (a tablespoon or two) and some spices - I use lemon pepper, garlic, and sea salt and stir to coat evenly. Spread your veggies onto the parchment paper like so...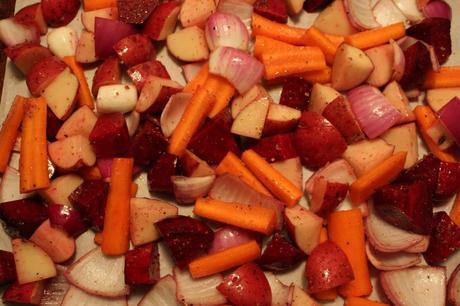 And bake for about 25 minutes - take it out to turn over/spread around and bake about 20 more minutes. My oven is a little iffy, so keep an eye on it! When they look good and roasted, remove and enjoy! They go well with anything - we had them as a side with crab cakes this weekend. I know I've been trying to eat vegan, but the crab cakes were so good!!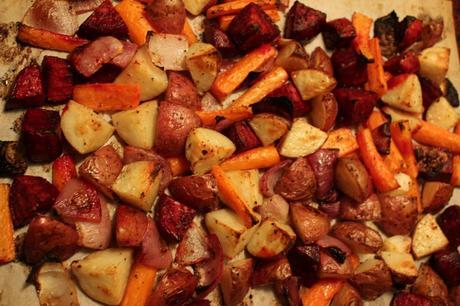 Do you have any good wintry produce recipes? Next I need to experiment with squash, cabbage, and cauliflower and spice up my repertoire!