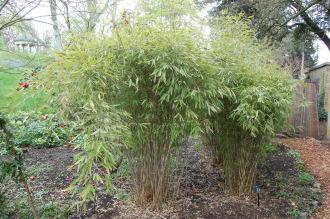 Fargesia nitida (23/04/2016, Kew Gardens, London)
Position: Full sun to partial shade
Flowering period: N/A
Soil: Moist, well drained
Eventual Height: 5m
Eventual Spread: 1.5m
Hardiness: 5b, 6b, 7a, 7b, 8a, 8b, 9a
Family: Poaceae
Fargesia nitida is a slow growing evergreen clump forming bamboo with an upright habit. Its dark green leaves are lanceolate with entire margins, up to 9cm long and 1cm across. Its purple canes may achieve a diameter of up to 1cm. Its roots emerge from rhizomes.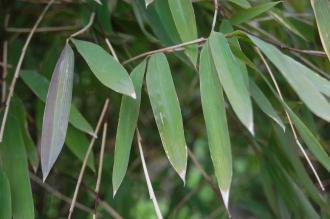 Fargesia nitida Leaf (23/04/2016, Kew Gardens, London)
Fargesia nitida, commonly known as the Chinese Fountain Bamboo or Fountain Bamboo, is native to China. In its native habitat it grows in damp semi wooded areas. Fargesia nitida is synonymous with Arundinaria nitida and Semiarundinaria nitida. This species of bamboo is an important source of food for the giant panda.

The etymological root of the binomial name Fargesia is named after Paul Guillaume Farges (1844-1912), a French missionary and plant collector. Nitida is from the Latin meaning 'shining' or 'bright'.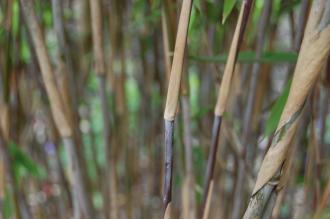 Fargesia nitida Canes (23/04/2016, Kew Gardens, London)
The landscape architect may find Fargesia nitida useful as an evergreen specimen bamboo. This bamboo is suitable for growing in large containers.
Ecologically, Fargesia nitida is of little value to UK wildlife.
Fargesia nitida prefers moist, fertile, well-drained soils. It tolerates most pH of soil.
Fargesia nitida requires little maintenance.


Landscape Architecture