It struck me that while I have been happy both in New Orleans and Natchez in Mississippi to stand there and admire the broad Mississippi River, I hadn't actually ventured onto the thing, and so before we left New Orleans I got out there on Ol' Man River.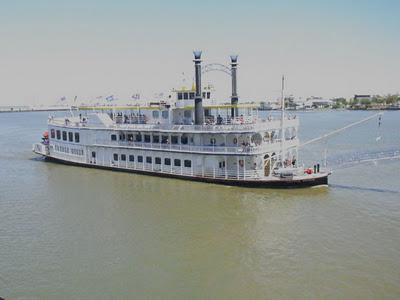 No, I didn't go on one of the two hard-working tourist riverboats for a ride, but this one did swoosh past quietly propelled by its paddle wheels, and it made a nice sight as it did so.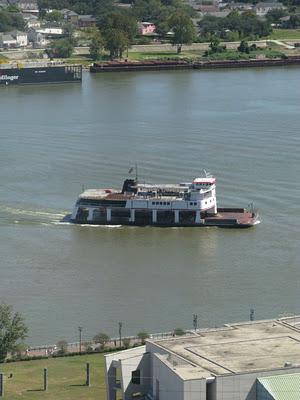 I went for a ride on this thing, the Algiers Ferry. It loyally does the short hop almost directly across the river and back numerous times every day, to Algiers Point. It's a car ferry as well as a passenger ferry, but passengers ride free of charge, while car owners pay a buck or two. Pam took this photo from our hotel room. I did the modern thing and texted her from the ferry "can you see me on the ferry" and so she went to mega-zoom for the shot. No, I can't see me either.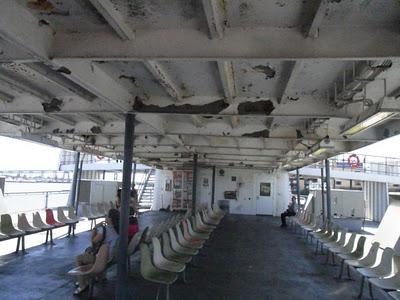 The ferry itself is a rusty, unloved, plain old workhorse, and so it's quite charming.
It is very flat-bottomed and the river is very smooth, and apart from the bump at the wharf at either end of the journey you wouldn't know you were on water.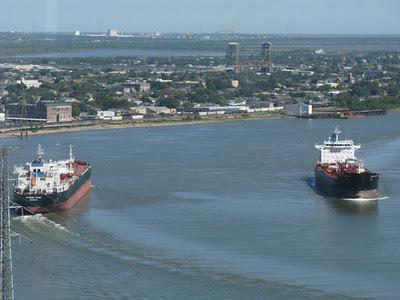 The Mississippi is a busy river port. You see scenes like this often enough, but most of the time the traffic consists of doughty little tugs pushing great strings of a half a dozen or so low, wide barges up and down river.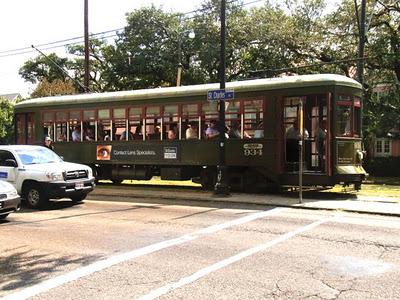 As well as sampling the water-borne public transport, I went on a few different rides on the local trolley cars, just to see a bit more of the real local community in action. This trolley car, however, is often packed with tourists heading down towards the Garden District, one of New Orleans' major drawcards for visitors.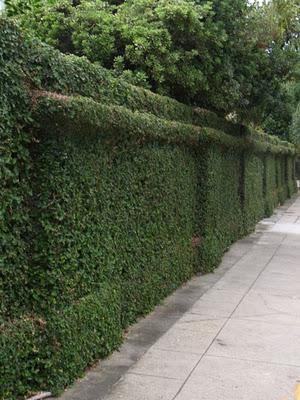 The Garden District is a flash area of town with several blocks of large 19th-century mansions surrounded by very well-kept gardens. The theme for almost all the gardens here is 'foliage' – lots and lots of lush green foliage. And lots of foliage also means lots of clipping. There's plenty of work with shears and secateurs for gardeners on low wages in the Garden District.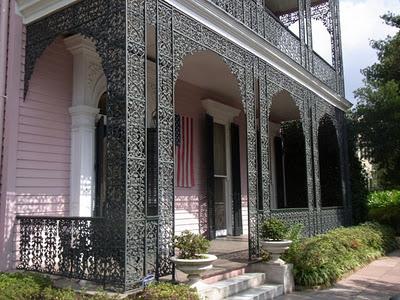 The houses themselves are large and vary greatly in their architectural styles from one place to the next, but ornate lace ironwork a highlight on many of them.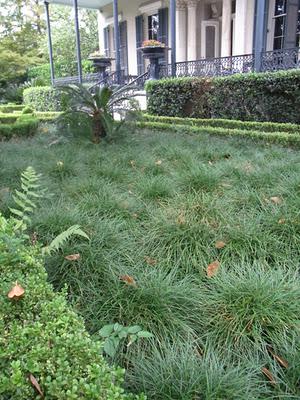 Another interesting part of the 'foliage' theme is that fewer than one in ten houses here had any lawn. You could walk a block or two at a time before you saw even a patch of lawn. Instead, they go for mass-planted, low-growing groundcovers like this to provide the lush green infill between the clipped green hedges.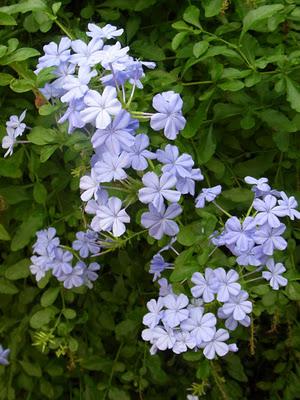 Flowers (like this plumbago) are a relative rarity here, and the lack of them did make the district feel a bit too samey and drab for me. Walking around here felt like going to one of those trendy inner-city parties where everyone is wearing chic black. A bit too cool for me. Maybe that's a bit harsh, but as a garden lover I did find the Garden District less than inspiring as we walked around. It felt like a place inhabited by wealthy people who didn't like gardening, but employed gardeners to keep up appearances.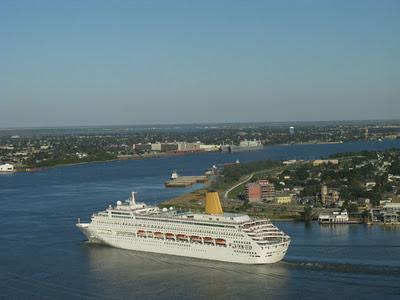 We weren't the only ones leaving the Crescent City, steaming off to our next destination. This is the cruise ship, the Oriana, leaving after a visit of just a few days. Another cruise ship would almost certainly be in port by the evening.

We've done a long haul on the road today, over 320 miles, and we're now in Montgomery, Alabama for a short stay. Montgomery was a centre of the civil rights movement's struggles in the 1950s and 60s, and we plan to find out more about that while here (apparently the Civil Rights Museum is very good). And, being country music fans, it's also the site of the Hank Williams Museum, so I am sure we'll have plenty to do while we're here.
New Orleans was an incredible place to visit, we had a wonderful time there and would recommend a visit to the Crescent City to anyone. We felt safe there, ate well, heard great music everywhere we went, even out on the streets. All I can hope is that you had the same great string of fine days of perfect weather that we enjoyed!