By Ben L.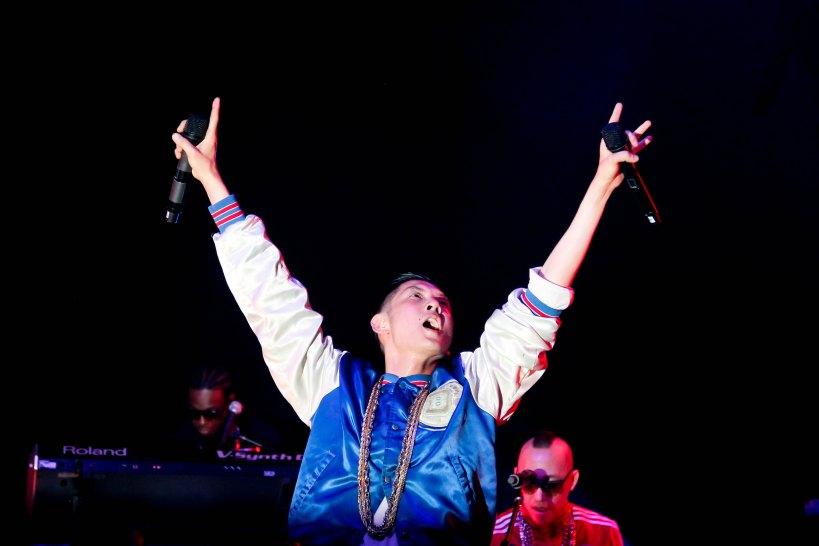 American hip-hop band Far East Movement were in Singapore on 8th August to host a gig at The Coliseum, Hard Rock Hotel at Resorts World Sentosa. Opening the show was US DJ Wendi Cakes with a 30-minute set of Top 40 songs, getting the crowd hyped up and ready to welcome the Asian-American quartet thereafter.
Kev Nish, Prohgress and J-Spiff brought an amazing level of energy to the The Coliseum, hopping about stage while belting out songs from their latest album Dirty Bass along with fan favourites 'Fly Like a G6' and 'Rocketeer' from their previous album. DJ Virman, who had been spinning the beats for much of the gig, also had time to don the cute monkey costume head and show off his moves on the floor while dancing to the tune of 'Go Ape'. Another standout of the show was the band's tribute to Beastie Boys, the band which according to Nish was their primary source of inspiration.
Dirty Bass may not have been the most refreshing of albums, but Far East Movement sure know how to put a terrific live act. Towards the end, Prohgress even crowd-surfed twice while the other band members gave away T-shirts as well as the highly sought-after setlist. Needless to say, the crowd was electrified.
Quick to acknowledge the significance of performing on the 8th, Nish and Co. certainly delivered a powerful show to welcome National Day in the best way possible.