In images of elsewhere
Years ago, before anyone had heard of the internet, I used to pass the phrase above sprayed as graffiti on a trackside brick wall on the main line into Paddington station. Recently, I have been reminded of how true it is.
In 2008 I was contacted by a church in Davao City, over 7000 miles away in the Phlippines, to say that they had been using the podcasts of my sermons in their services, and could I supply notes? Sadly, I was unable to supply the notes – but told them I was delighted the sermons could be 'used again' in the way that they were doing. I figured that it was God's word, and not mine, and therefore they should feel free to use it. My only request was that they should stay in touch.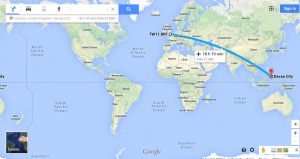 Over the years they have done just that. They have gone on to use the podcasts both in their services and on the radio station run by the church. Every few months Pastor Luciano brightens up my inbox with a report on a special service or outreach the church has run.
The image below tells a story all of its own. On Friday 13th June I wrote a sermon in my office at Teddington Baptist Church. Two days later, I preached it at the morning service. On Monday 16th June the podcast was uploaded to our website. On July 27th, a group of young Phlippinos invited their friends to a Youth Service where the podcast was used. As you can see, a number of people came to faith on that occasion.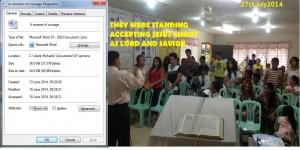 Sometimes people talk about technology in church as if it were a regrettable necessity. Not only that, but they like to separate it from the 'real' church, which consists of people motivated by the Spirit. My experience with this distant partnership has been quite the opposite.  God is at work in these things every bit as much as our faith and openness will allow Him to be.
'Far away is near at hand in images of elsewhere' seems truer now than it ever did spray-painted on that brick wall. What distant partnerships will you enjoy today?