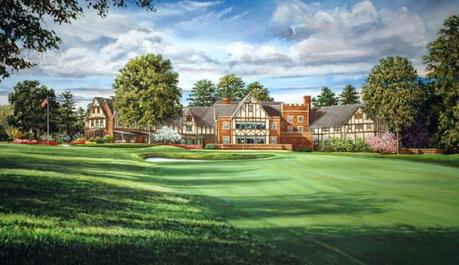 I'm a little late in getting this one posted, I guess I was still of basking in last weeks fantasy golf victory.  I was pretty excited to see one of my picks (McIlroy) end up at the top of the leaderboard.  But I shouldn't get ahead of myself, because as the saying goes "Even a blind chicken finds a kernel of corn once in a while."  In any event, the Wyndham Championship is under way today at the Sedgefield County Club in Greensboro North Carolina and although many players are taking this week off, there is still plenty of talent to keep an eye on.
Here's a few of the guys I'll be keeping an eye on:
Carl Pettersson – After leading at the PGA, Pettersson was able to land his fourth top three finish of the season including his win at the RBC Heritage. He shares the course record here at Sedgefield with Arjun Atwal and Kevin Na and rode his second-round 61 to a win in 2008.
Ryan Moore – Moore won this tournament in 2009, missed the cut in 2010, and didn't play here last year. He finished t8 in the John Deere Classic before missing the cut at the British and PGA Championships. He's a long-shot but knows the course and has four top 10s this season.
Webb Simpson – In a thin group A with only 12 total options, you want to have Webb on your roster if you have the starts to play him. He's the defending champ here and has been remarkably consistent all year. He missed the cut last week after a rough round one which was his first competitive round since early July. He had taken time off for the birth of his second child but seemed to have things back together shooting an even-par 72 in round two. Prior to his time off, Simpson finished t7 at the Greenbrier after winning the US Open.
John Daly - I can't forget about JD.  He's been climbing the leaderboard in recent tournaments, and is due for a tournament win.  He's traveled a long road to recovery, has re-found his game and I for one would love to see him have a great weekend.
Here's my complete Fantasy Golf picks for this week...