The Buddha Tooth Relic Temple is hard to miss: It's a four-story high, vivid red-and-green, Tang-styled Chinese Buddhist temple smack dab in the heart of Chinatown.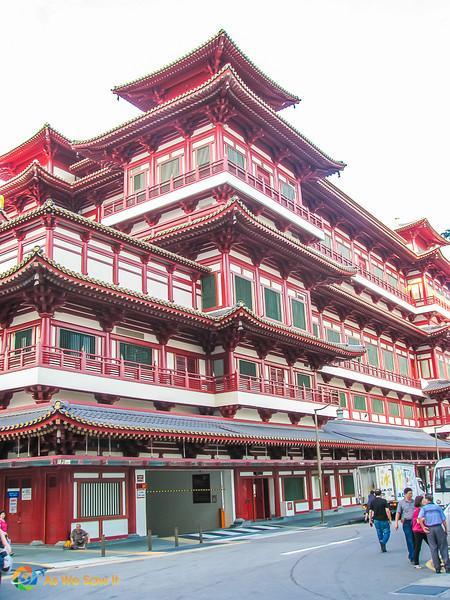 The temple is actually not that old; it was completed in 2007 at a cost of S$62 million. It prides itself on the extensively-researched accuracy and authenticity on its design and architecture.
One-of-a-kind construction in Singapore
What makes the architecture of the Buddha Tooth Relic Temple (BTRTM) truly impressive on the outside is that it's the only one in Singapore that is lacquered, not painted. The timber was sanded, then strengthened with successive layers of plaster and linen (7 of linen and 5 of plaster), smoothed and sanded at every stage.
Finally it was finished with three coats of a special Chinese lacquer, in carefully-selected shades.  The walls are red and the trim, green.  In both cases, the lacquer protects the temple from Singapore's harsh weather conditions.
Atop the building, the straight, supporting rafter beams are protected by round, bronze ornament caps.  The yellow gilt of the lotus-patterned ornaments create a nice complement to all the red and green.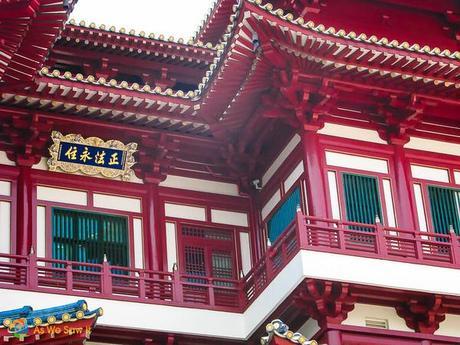 What's inside the BTRTM
We were disappointed that the temple was closed when we were there, because it's in all lists of "must see" sights in Singapore.  It is the best Buddhist cultural complex in the region.
The temple features many facets of Buddhist arts and culture, most notably relics of the Buddha.  The most prized is reputed to be one of his teeth, housed in a massive, solid gold stupa, created from donations of gold jewelry from devotees.
Other highlights include the Buddhist Culture Museum, Eminent Sangha Museum, Sacred Light Hall, and a Theatre for cultural performances.  Also, the roof houses a giant Buddhist prayer wheel and the Dendrobium Buddha Tooth, an orchid named for the BTRTM, both of which I really wanted to see.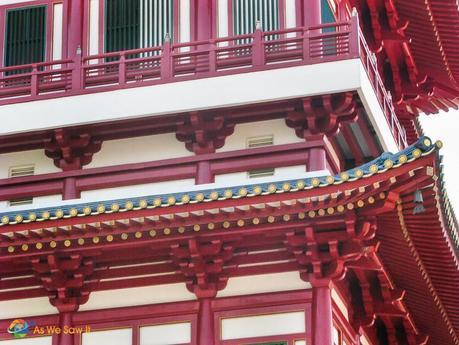 Visitor information
Open every day 7:00am – 7:00pm (some parts close at 6pm).
Free admission, though donations for upkeep are appreciated.
There are two rules for visitors:
1   Wear appropriate attire to show respect (no bare backs/shoulders, shorts, mini-skirts, etc.)
2   No food or pets inside the Temple.Simple vegetarian fare is served in the basement dining hall.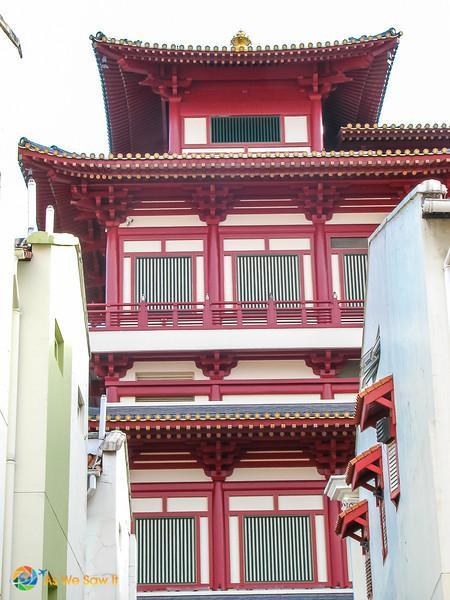 email
(Visited 1 times, 1 visits today)