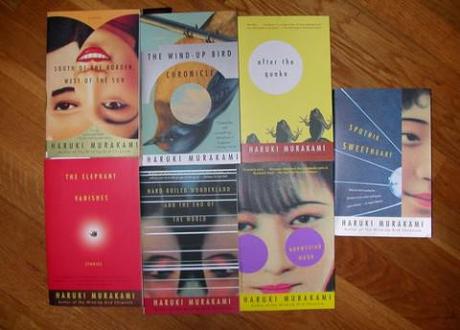 Books by Haruki Murakami, author of "1Q84". Photo Credit: lore, http://www.flickr.com/photos/lore/42518/sizes/m/in/photostream/
The crowded midnight release scenes of the Harry Potter books were legendary, but few would think that the same sort of devotion would be shown by fans of a Japanese cult author. However, some 80 people queued in the cold to get their hands on the English version of Haruki Murakami's new novel 1Q84 outside Foyles bookstore on the Charing Cross Road, central London, at midnight on Tuesday the 18th of October according to Japan's Kyodo news agency. Waterstone's held a Murakami quiz at midnight in their London flagship to celebrate the release of the novel; the first prize was a £750 limited edition of 1Q84. The first two volumes of the book have been released together for £20, with the third pegged to come out on the 25th of October.
The book is told from the perspective of two characters — schoolteacher Tengo and assassin Aomame. The opening has Aomame descending down an iron stairway into a surreal underworld to escape a traffic jam on a flyover. The year is a warped '1Q84,' a word-game on the similarity between the Japanese 'Q' and the word for '9′ and a homage to Orwell's anti-totalitarian novel 1984. Aomane meets Tengo, who remembers her holding his hand thirty years before. Their romantic story continues along IQ84's 1,060 pages in a romance that explores themes of, among others, sex, metaphysical sex, fanaticism and homicide.
So, is it worth the hype?
Contemporariness. Matthew Chozick in The Japan Times waxed admiringly about the book. He loved 1Q84's "subtle humor and fresh narrative details" such as a spinach-loving german shepherd and a car crash caused by a sneeze. "Murakami's fiction has grown increasingly relevant to our understanding of the world today, and this time his craft is more refined than ever", Chozick gushed.
Lovely. US public radio station NPR's Alan Cheuse really enjoyed 1Q84 fell head over heels in love with the book: "Murakami's main characters find themselves drawn toward each other as irresistibly, magnetically, hypnotically, soulfully as well as physically in ways just as powerful as any characters in contemporary Western fiction. Despite the novel's enormous length, I felt the same attraction", purred Cheuse.
A book for those who wonder.  The Guardian's Steven Poole praisers Murakami's characters that "never cease to express their bafflement about the nature of time, or change, or consciousness, or moral choice, or the simple fact of finding themselves alive, in this world or another … It is natural, then, that his work should enchant younger readers, to whom the problems of being are still fresh, as well as others who never grew out of such puzzlements."
Over-hyped. Tim Adams at The Observer swam against the tide. Although a fan of Murakami's earlier work, Adams suggested that the author "has ceased being a novelist and has entered the dangerous world of literary phenomenon, a cult figure himself." His efforts to write the Great Japanese Novel are pleasant, he sniped, but "too many notes and digressions feel forced or fall flat."
More on books

Booker Prize rival to launch
Amy Winehouse's Dad to write book
Steve Jobs book
Bob Dylan tipped to win Nobel Prize for Literature
Amazon's Kindle Fire
Gay young adult fiction
More Books »