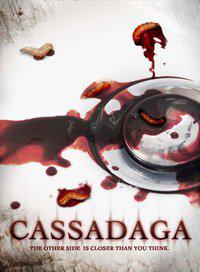 The cast and filmmakers of the supernatural thriller, Cassadaga, are inviting movie fans to enter the "Cassadaga World Premiere Sweepstakes" for a chance to be their personal guest at the World Premiere of Cassadaga.
The lucky winner will receive 2 tickets to join the cast and filmmakers at the World Premiere screening of Cassadaga on Saturday, October 22 @ 4:00pm. The Premiere event is part of the Screamfest Horror Film Festival and will take place at the Mann Chinese 6 Theaters in Hollywood, CA. Winners will also attend the exclusive movie after-party and get a personal meet & greet with Cassadaga cast members including Kevin Alejandro, Kelen Coleman, director Anthony DiBlasi, and more. They will also receive an autographed Cassadaga poster.
Fans can enter the sweepstakes through the Cassadaga Facebook Page. Entrants can also enter by sending an email directly to cassadagatickets(at)gmail(dot)com.
All entries must include name, birthdate, city of residence, email address, and
a 2 sentence answer to the question "If you could attend a seance in Cassadaga, the Psychic Capital of the World, who would you contact and why?"
Sweepstakes ends on October 20, 2011 at 12:00pm PST.
"Film fans are who we make these movies for in the first place, so what better way to premiere Cassadaga than to have a fan be my special guest of honor at the screening and party," said director Anthony DiBlasi.
"Cassadaga was a great place to shoot, very eerie! I look forward hearing who our fans would contact from the spirit world and why! Very excited to party with the winner at the premiere and after party!" Said producer Scott Poiley.
Cassadaga stars Kelen Coleman (Children of the Corn: Genesis), Kevin Alejandro (True Blood, Southland) and Academy Award winner Louise Fletcher (One Flew Over the Cuckoo's Nest). The film is directed by Anthony DiBlasi and produced by Scott Poiley and Bruce Wood.
Synopsis: From Director/Producer Anthony DiBlasi (Dread, Midnight Meat Train) comes the supernatural thriller Cassadaga.Devastated by the death of her younger sister, Lily Morel seeks solace at the spiritualist community of Cassadaga. But instead of finding closure, she contacts something else — the vengeful ghost of a murdered young woman. With her life crumbling all-around her, Lily races to unravel the mysterious circumstances surrounding the woman's death — a task that will bring her face-to-face with a sadistic serial killer known only as "Geppetto".
See the trailer from the film below:
source: prweb.com