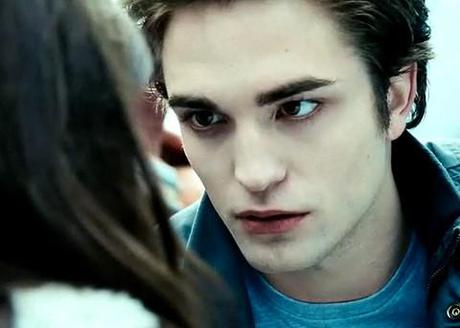 R-Patz as Edward Cullen: He's a vampire. Photo credit: Santi E, http://flic.kr/p/5tcMyn
It's like Occupy, but smells less like patchouli, unwashed bodies and earnestness and more like Bath & Body works body spray, lipgloss and unrequited love. Twilight fans around the world have been dusting off their life-sized Robert Pattinson cardboard cut-outs and setting up their tents: Breaking Dawn Part One, the third installment in the movie franchise based on Stephenie Meyer's bestselling novels, premiered in LA last night.
Occupy R-Patz's heart. Brian Moylan reported for Gawker that "Twihards" – diehard Twilight fans – set up camp outside the LA theater for five days in the hope of glimpsing the film's stars. And by the look of the Gawker photo gallery, many of them were female. At least one Twihard was wearing a wedding dress, possibly because as a nod to the fact that the film features possibly the world's first human-vampire marriage, or possibly she was hoping Robert Pattinson (AKA R-Patz) would propose.
See the film, buy the wedding dress. Speaking of which, Twilight fans will soon be able to get their hands on a replica of the wedding dress worn by main character Bella Swan (Kristen Stewart) when she marries vampire Edward Cullen (R-Patz). Disappointingly for Twihards, the gown does not come with a blandly handsome undead man attached.
Merchandise ahoy! The wedding dress is not the only Twilight replica available to Twihard brides-to-be – copies of the invitations and rings are also due to hit the shops. No Edward Cullen on the horizon? Not a problem: crafty Twilight fans can cross-stitch their very own R-Patz, thanks to The Guardian.
Vamp. There has been considerable speculation surrounding the dress,  as few details have been released and the trailer (see below) only gives a glimpse of veil and long sleeves. Sadly, Kristen Stewart neglected to give impatient fans a preview by wearing the wedding gown on the red carpet last night. Instead, according to The Telegraph, the actress and real-life R-Patz paramour "vamped it up in a long purple and black sequinned gown".