Five Fangtastic Favorites for True Blood season Five…with One being the highest Favorite.
The following fashion choices are based on the comments that have been posted by fans on Twitter and Facebook. So it's an overall judgment from social medias out there as well as a personal view too.
Audrey Fisher is True Blood's costume Designer.
A little late this week, The Vault's staff is trying to enjoy a little vacation as well.
What were your favorite outfits of episode 5.09? Post about it in the comments.
#5 Sookie
How great is the kitten printed attire that Sookie has in this season of True Blood? First it was the lemon printed sweat suit that we saw Vampire Pam borrow and now this great number in purple.  Love it!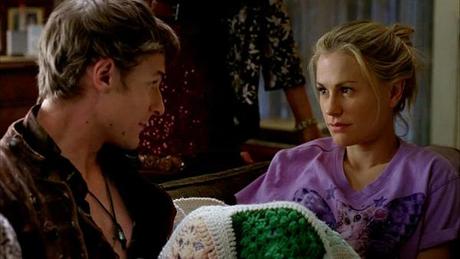 #4 Claudeen
How gorgeous is Claudeen in this amazing Faery outfit?  I enjoy everything the Fae girls and guys wear its colorful and entertaining.  The jewelry matches the look with sparkle layers under a black and white robe so sassy!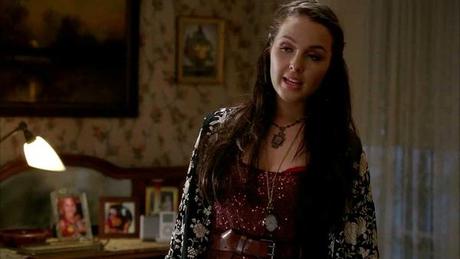 #3 A new Sheriff
The authorities are changing it up and the drinks are on the new Sheriff of area five.  Antarctic blue eyes and deadly locks that entice the new Sheriff has enough confidence to throw Pam to the ground and sport a racy attire of tight leather pants, black pinstripe shirt and jacket.  A different approach to the job than that of Mr Northman.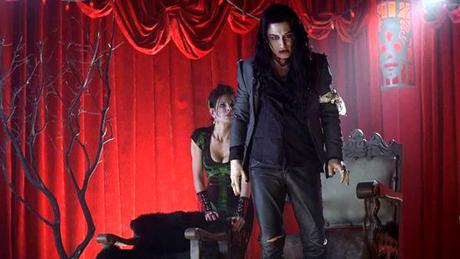 #2 Nora
Convinced that her whole existence is within a small vial of blood believed to have come from Lilith, Nora sits in meditation by the shrine.   During a visit from Eric we see Nora in a gorgeous floor touching, waist hugging purple dress with a gathered neckline and leg slits on her left and right legs.  Remarkably romantic and captivating I look forward to seeing Nora in the next episode.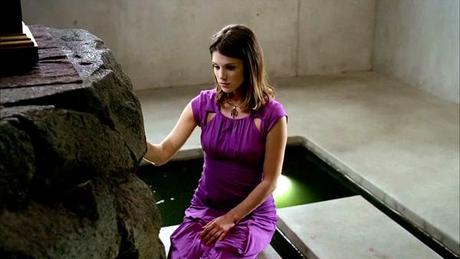 #1 Pam
True Blood is scarce and Pam is keeping an eye out on those wanting a little more action than is legally allowed, under the old Authority.  The new authority have appointed a new Sheriff and Pam is dressed in a hot red corset open oval neckline, long lace sleeves and crimped hair.  A look worthy to hold the number one spot I hope she can do it again next week!