Can I please just say that this is the moment I've been waiting for since the very first Thor movie came out. I have always loved Loki, his mischievous ways, his attitude, everything about him was fantastic. The one major problem I always had was finding ways to show it.
I remember my first trip the local comic con, among the tables and walls of t-shirts and hoodies there was extremely limited among of Loki Merchandise available. In fact, I recall a grand total of two t-shirt designs that featured the God of Mischief and really not much else.
Not to say I haven't found my fair share of Fangirl wear but when you work in an office environment it could be hard to find work appropriate attire. That is where Her Universe and Hot Topic has come to the rescue.
So many of their pieces are Subtle enough for everyday wear but have the details that any true fangirl, or boy would recognize. EVEN BETTER There's now an entire Loki line! Christmas list complete.

MARVEL LOKI VELVET EMBOSSED DRESS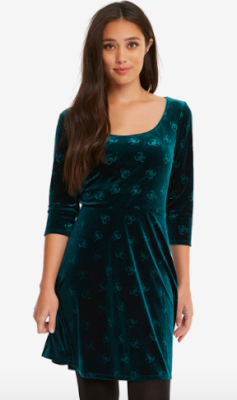 $49.90

$39.92

USD

Currently 20% off 
Sizes XS-3X

Available at HER UNIVERSE

Also Available at HOT TOPIC
This piece is beautiful and could be easily dressed up, pair with a blazer for work and when you look at the green velvet fabric you see the Loki crown embellished dress. I would wear this to work, also a Christmas party, out on a date. Very versatile.
HER UNIVERSE MARVEL LOKI GREEN FAUX LEATHER GIRLS JACKET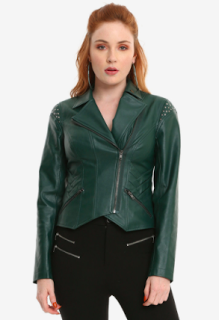 $69.90 USD
XS-3X
Ony Available at HOT TOPIC
This piece I am absolutely in love with, the Her Universe website had a black version of it but I feel like the green really captures the Loki spirit. It's cut much like Loki's costume and If you get a closer look at the lapel on the jacket it's clear to see the little gold studs with his crown featured. I would happily add this piece to my wardrobe and get a lot of use out of it.
MARVEL LOKI CAPE BLAZER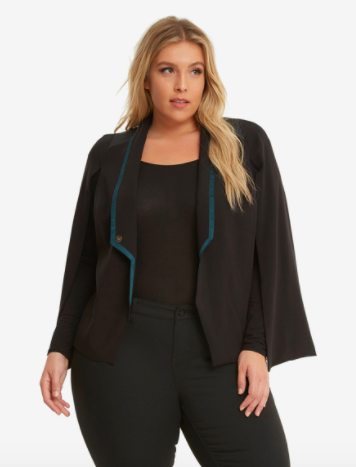 $59.90

$47.92


Currently 20% off 
Sizes XS-3X

Available at HER UNIVERSE
This would be a super cute workpiece if you love that cape look. I prefer it as seen in the photo here with a long sleeve black shirt underneath because it helps it looked like a complete piece. I have seen photos of it over a lighter short sleeve shirt and I feel like the contrast actually takes away from the blazer as a whole. Plus it's winter up here in Canada and the thought alone is leaving me chilly!
Do you have any favorite fangirl pieces that you own and wear on the regular? I'd love to see what you've got!