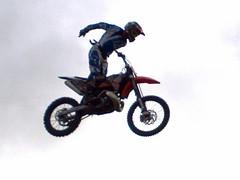 photo : Wapster
Perhaps the last thing you might expect to see amidst the Austrian mountains is a pyramid. Well there is – at least a 'look-alike' pyramid. It's also known as Mount Erzberg.
Mount Erzberg
Dominating the landscape near Eisenerz, Steiermark, is the man-and-nature-made pyramid, Mount Erzberg. Mining and quarrying of this natural feature has resulted in the mountain having the appearance of a Mexican pyramid set against a backdrop of  majestic massifs.
In ancient times, the Mur valley was characterised by a line of thriving industrial townships developed through the mining and quarrying of iron ore. Quarrying  in the area dates back to the 12th century and is an ongoing industry in the 21st century. Mining stopped approximately 25 years ago, but the shafts and tunnels have a new life in the tourism trade.
The narrow gauge railway built to transport ore from the village of Eisenerz to Leoben, now carries visitors for amusement on the mount and to wonder about times gone-by in the terrifying mining tunnels.
Mount Erzberg Myth
There is a long held legend in Steiermark, that the Mountain was named following an amazing discovery made by two young men out foraging in the forests. They discovered Aquarius – a beautiful youth who was carried off to Olympus by an eagle to be 'cup bearer' to the Gods – trapped in a fish tank (as one does on a mountain!). The young men freed Aquarius, who in gratitude offered them a choice of reward:
The first choice was of unlimited gold for a brief time;
the second, silver for a few years;
and finally iron ore forever.
One young man took gold and died penniless within a few years; the second took silver and his fortune was short-lived; the third asked for iron ore and his riches continue today in Mount Erzberg.
Mount Erzberg Motorcross
Besides quarrying and tourism, Mount Erzberg is now widely renowned for the crazy capers of those maniacal men and women of motorcross!
Regular racing takes place on the steplike terraces of the pyramid mountain.
If you happen to be staying in this traditional style holiday chalet, Mount Erzberg is about 2.5 hours drive away through the delightful Mur Valley. And you too can go hunting for Aquarius!