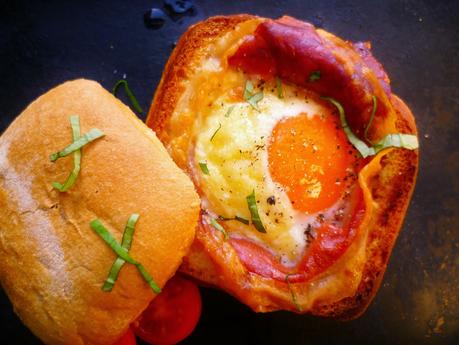 baked egg and proscuitto in a bread roll
Every so often I find a couple of rock-hard bread rolls looking up at me forlornly from the bread bin. One of my favorite things to do with them is to reheat the rolls, stuffed full of a few of my favorite things - ham, cheese and eggs and a little fresh basil. A fabulous breakfast or brunch.

Serves 1
Skill level: Easy
ingredients: 
1 crusty bread roll
melted butter
1-2 slices of prosciutto (or parma or serrano ham)
1 large egg
salt and freshly ground black pepper
a little grated cheese, such as emmental, gruyere or cheddar
a little chopped fresh basil (or parsley or chives), to serve
a few lightly roasted cherry tomatoes, halved
directions:
Pre-heat the oven to 180C / Gas Mark 4.

Douse the roll under the cold water tap for a few seconds.

Slice off the top of the roll to create a lid, about 1 cm thick.

Scrape out the bread inside the roll, leaving a wall about 1 cm thick. (I soak this small handful of bread in water and then leave it out for the birds, as advised by RSPB.)

Brush the inside of the roll and the bread "lid" with a little melted butter.

Drape the roll with ham, ensuring that it is tucked in well.

Break an egg into the roll.

Season with salt and freshly ground black pepper.

Sprinkle over a little grated cheese.

Place the roll on a baking tray. Bake for about 15 to 20 minutes. The egg will set and the bread will be crisp. (Add the bread "lid" for the last 5 minutes.)

Top with the chopped herbs and the bread "lid".

Serve with a few roasted tomatoes.