Julia Conlogue, a True Blood fan and an avid attendee of fan conventions's went to the Comic Con in Albuquerque , New Mexico last weekend. There she met the lovely Kristin Bauer van Straten and she was nice enough to share her story with The Vault.
Read Julia's story below:

I'm a big geek when it comes to Comic, Sci-Fi and Anime Conventions. I've traveled to San Diego Comic Con where I had the time of my life! One of my New Year's resolutions was to attend more con's this year. Lucky for me here in Albuquerque, New Mexico they've started popping up more frequently. This was only the second year for the Albuquerque Comic Con so I was really surprised when I saw the talent that they had booked. I was most excited when I read that Kristen Bauer and Sam Trammell from True Blood were on the guest list. I knew where I'd be January 13th through 15th.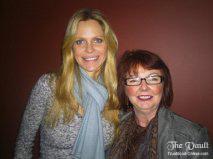 Kristen is, as you would expect, just the opposite of our beloved Pam. Super sweet and very down to earth. I arrived Saturday morning dressed in street clothes and headed right for her table. There she sat looking very poised and lady like in a blue print, soft sweater with a baby blue scarf around her neck. Yes, the obvious statement about hiding any bites on her neck went through my mind. And no, I refrained from saying it out loud. She wore just enough makeup to enhance her natural beauty. And WOW, she is a real beauty! She was chatting and answering questions from other fans when I approached. They thanked her and moved on. OMG! I had her all to myself!
She was offering her autograph with the purchase of a photograph. There were so many to choose from! Most were of Pam or Pam and Eric (Alexander Skarsgård), a couple of Pam with the other True Blood vampires. I was having trouble making up my mind so I asked which one was her favorite.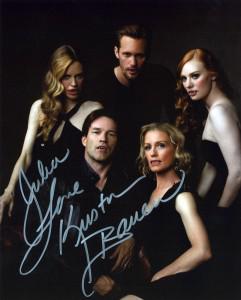 She sat up closer to the table and perused them. The photos were upside down from her side of the table. She would start to reach for one then hesitate, scrutinizing another. But like me she couldn't make up her mind either. There just wasn't a bad one in the bunch. I decided on one with Pam and the other vamps. She signed it, Julia,Love Kristen Bauer. I know we chit chatted but honest to goodness, I don't remember what either of us said! Star Struck? Who me? I moved on down the hall to catch my breath and get a bottle of water.
Later as I was wandering back up the hall I saw that she was free at her table. So wanting to be a good ambassador for Albuquerque, I walked back up to ask how the fans were and if she was enjoying herself. She brightened right up and said the fans were being really great and that it was fun to meet everyone and see people dressed up. There were a couple of "Sookies" wandering around hunting for Sam I expect. We talked about the Hard Rock Hotel & Casino where the Con was being held. She hadn't seen any of Albuquerque except the airport and the hotel. She hopes to come back and bring her husband next time.
I was feeling very comfortable now so I asked if I could have my photo taken with her. She stood right up and said yes. She is really tall. Her assistant, Bob, was kind enough to use my camera for the photo. I mentioned earlier that she was wearing a soft sweater and a scarf. I love scarves and was wearing one of my favorites, a brown and gray snake print over a charcoal long sleeve sweater. We look so nice together! All the cool girls wear scarves. "Especially when it's cold" said a smiling Kristen. The tables for the celebrities was located in a main hallway and was drafty in the morning, but warmed up as more and more fans showed up.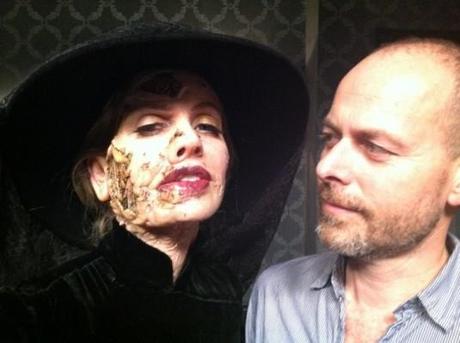 Kristen and Sam Trammell were scheduled to have a panel discussion in the afternoon. Due to work commitments Sam was unable to attend the Albuquerque Comic Con. It was up to Kristen to answer questions from a packed room of True Blood fans. We all stood, clapped and yelled our greeting to her. She seemed a bit overwhelmed. Her first words were "No, I can't tell you anything about season 5." She explained that even the actors aren't privy to what comes next for the cast. For example, when her character, Pam, began rotting she worried briefly if maybe that was the end for her.
Kristen also talked about the makeup for her rotting scenes.
She explained that there were tiny hooks embedded in the makeup with filament that was then pulled by crew members to get that skin drooping effect.
An audience member asked about crying the blood tears and Kristen smiled and explained that first season they had the drops in their eyes, with their heads tipped back until they were given direction to move. She's pleased that with the second season came more money for effects so now the tears are CGI'd in later. She was asked about learning Swedish to which she told us a story about telling Alex "Well, you're the only one that will know if I say it wrong." To which he replied "Just me and 9,000,000 other Swedes." We all laughed.
The best "question" came from a young man who asked if Kristen would say one of Pam's favorite lines. Which one Kristen asked? He shyly asked her to tell him to "Fuck off" as Pam would, which she did. It was awesome!!
I dropped by her table at the end of the day and she told me she was going for dinner with Brent Spiner (Data, Star Trek NG, Independence Day, etc…). His table was set up next to hers. She told me they were going for Mexican food. I suggested she get sour cream on the side since our chili can be hot if you're not use to it.
We chatted more on Sunday since it wasn't as busy as Saturday had been. She told me she had enjoyed her dinner and loved the food. It wasn't too hot for her!
I made my way to the panel room for a morning panel titled "Vampire Gambit" with Gil Birmingham (Twilight, etc..), Daniel Gillies (Vampire Diaries), Sam Trammell and Kristin. I knew not to expect Sam but was disappointed when the panel began without Kristen. I checked with her later and was told no one had mentioned it to her.
I dressed up on Sunday because I was scheduled to have a professional photo done with her. I was in line and saw her go into the photo booth. I was talking with friends and didn't notice the line move without me. Next thing I see is Kristen leaving. Ack!! The photographer's assistant brought her back. She was laughing when she came back and saw it was me. I apologized and she said it was no trouble, she hadn't gotten far. We had the photo done and walked out together. She said she had only gotten as far as the chocolate booth so we headed there. While she was making her choices I asked how she could eat candy and be so slim. She smiled and said she gets one bite and saves the rest for her husband.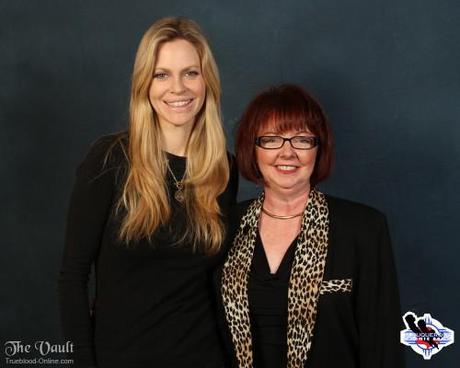 If there is a con near you and any of the actors from True Blood will be there I suggest you buy your ticket early, wear comfortable shoes and polish those teeth because you are going to be smiling the whole time.
Julia Conlogue