I've been wanting to write about this place that we visited and fell in love with when we were in Bangkok. Yup, I know I know, that took place last year and it's taken me far too long to write this piece. Well, it really takes a lot of effort to do up a travel post, from the sorting, compiling, editing and uploading of photos to the research and actual writing, so kudos to all the family bloggers out there who are still keeping up with documenting each and every of their travel experiences.
If you have not read our family-friendly Bangkok itinerary, go here. We visited popular tourist attractions such as KidZania, Sea Life and Safari World and also braved the crowd with three young kids in tow to go to places like Chatuchak and Central World night market. Would we bring the kids to Bangkok again? Yes, without a doubt, we would love to visit again.
In this post, I'm sharing more about Asiatique The Riverfront, which I first read about online and thought the husband might be interested in this place. It turned out that despite we only spent four nights in Bangkok, we made our way here not once, but twice. That says pretty much everything, right? Asiatique is basically a night market and outdoor shopping mall which sits by the river, and its vibes reminds me somewhat of our Clarke Quay and Bugis street.
I remember that the moment I stepped down from the boat and walked near, I could hear Jay Chou's song blasting from one of the pubs. Yup, Mandopop fan here! It made me feel instantly at home and I knew we chose the right place to visit.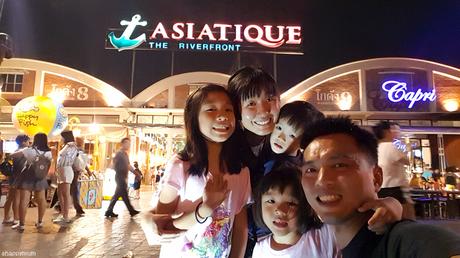 Getting to Asiatique is easy, all you have to do is take the BTS skytrain to Saphan Taksin station, follow the signs to Asiatique which will take you to the pier, and hop onto the FREE boat shuttle. Yes, it's complimentary so make sure you don't get charged for it. The journey takes roughly ten minutes only and you can enjoy the beautiful night scenery of Bangkok as you sail along the Chao Phraya River.
Saphan Taksin
Read more at: http://www.bangkok.com/shopping-mall/asiatique.htm?cid=ch:OTH:001Saphan Taksin
Read more at: http://www.bangkok.com/shopping-mall/asiatique.htm?cid=ch:OTH:001Saphan Taksin
Read more at: http://www.bangkok.com/shopping-mall/asiatique.htm?cid=ch:OTH:001Saphan Taksin
Read more at: http://www.bangkok.com/shopping-mall/asiatique.htm?cid=ch:OTH:001


The boat runs from 4pm to 11pm and you might have to queue a little while waiting for it to arrive. We came here on a weekday after dinner and there wasn't much of a crowed, much to our relief. The staff was also so nice as to allow us to have priority boarding because of the toddler in arms and two young kids. Thank you! You can also choose to go to Asiatique by taxi but considering how we were stuck in the traffic for over two hours when we arrived in Bangkok, I would definitely choose to go by boat. If you shop or stay till late at night, then you can considering grabbing a taxi back to the hotel when the traffic is much less.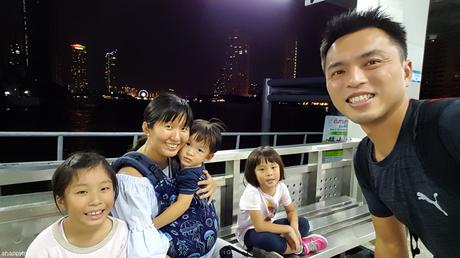 We were thrilled to spot the ferris wheel, Asiatique Sky, when we were nearing the market. Well, we've been on the London Eye and Singapore Flyer already, right? So don't ask me why we still felt so excited and squealed with delight, it's what makes all our family travels more fun and memorable mah.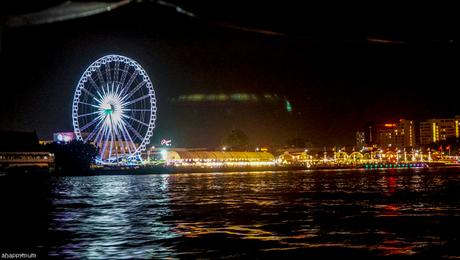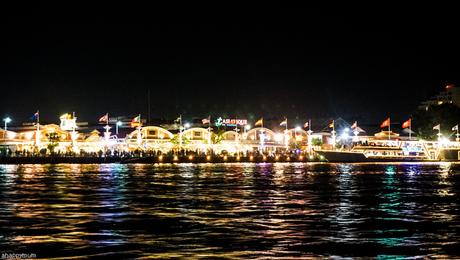 Once you step down from the boat, you will walk on a boardwalk for around 300 metres and ta-dah, You have reached Asiatique The Riverfront! Easy to get to, right?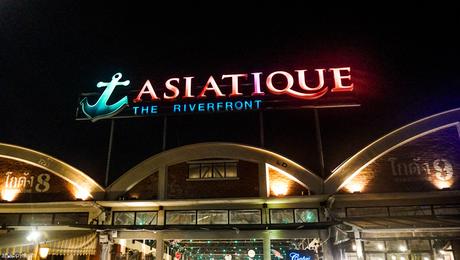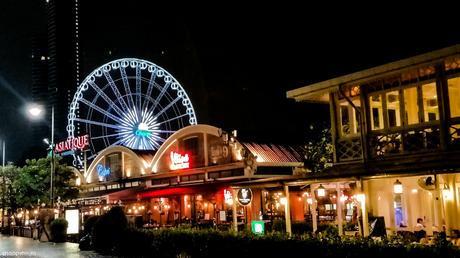 The place gives off a retro feel and its wide streets offers a number of ideal spots for phototaking, if you want. Better still, why not put the camera and phone away, and just sit down, chill and enjoy the night, right? Well, that is provided it is possible when you have kids with you.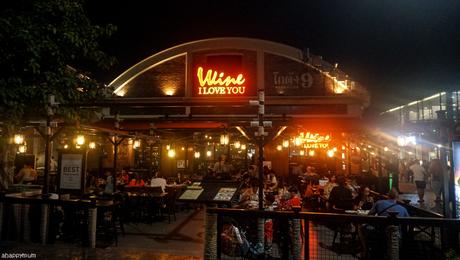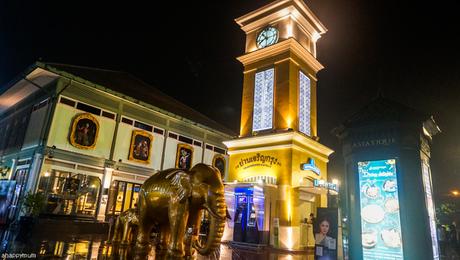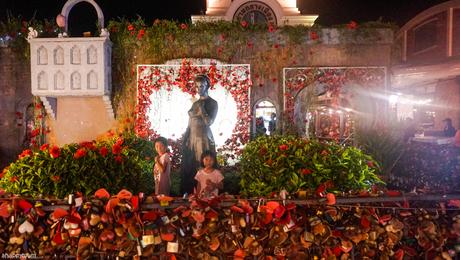 Even though the place didn't look huge, we were impressed to learn that Asiatique features over 1,500 boutiques and 40 restaurants. The warehouse style and setup of the boutiques, together with how they are organised into different zones, makes the place one of the neatest and easier-to-walk markets we have been to. Regardless if you are shopping for clothes, accessories, souvenirs, handicrafts, jewelry or even technology gadgets, you are likely to find something that you like. We bought a set of family matching tees and some kids' clothing at a good price and yes, you can try to make a bargain just like in Chatuchak.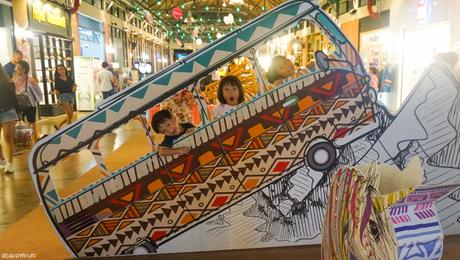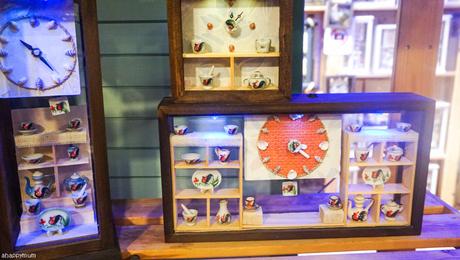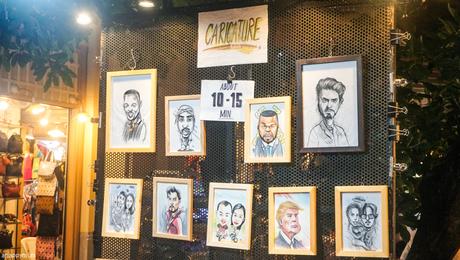 There are also many eateries to choose from, from local and Asian cuisine to Western and international fare. Besides that, there are also two theatres where nightly performances take place, including Thai puppet shows, cabaret and even Muay Thai too. Nope, we didn't watch any of that though because we didn't think it was suitable for the kids and anyway, we just wanted to walk around and take it free and easy.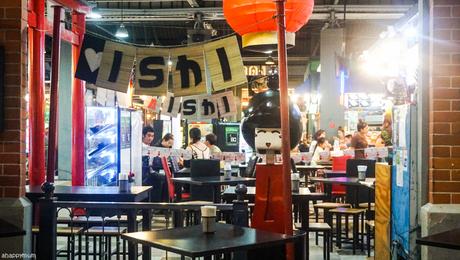 Oh, look! A carousel in the middle of nowhere! Haha, we only took photos with it because I thought it was overpriced and anyway, they've been on too many merry-go-round rides already so let's save the money and go in search of better and more value options.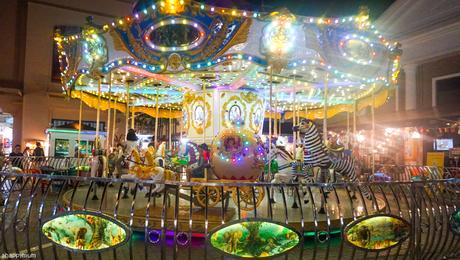 That proved to be a smart choice because guess what, we realised there was a CARNIVAL zone which offered kid-friendly rides and game stalls too. Yippee! This had to be the kids' favorite part of the night and they couldn't wait to get started!
First up, we tried the darts game and thanks to our training days in NTU Hall 6, the hubby and I managed to score a stuffed toy for the kids. The best part was seeing how they were willing to give it up and pass to a little girl who was looking at us the whole time. She beamed with delight and I think her happiness was infectious and made all of us feel happy too.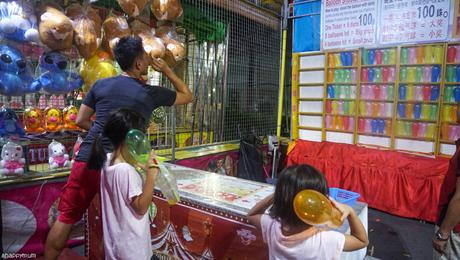 The kids also did ring toss and I'm pretty sure the staff gave them more rings than they were supposed to have. Haha. Yup, the staff were quite friendly and generous to us, which made us pleasantly surprised too.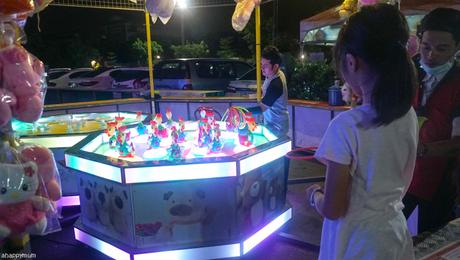 Next up, the kids went on a VR ride! Okay, technically it wasn't supposed to be one but two rides, but I also think they gave us extra in the end because they just kept watching one clip after another lor. What was the biggest highlight here? Well, guess what, the two-and-a-half toddler decided he was brave and big enough to try out the ride and amazed us by sitting there patiently throughout the rides, even telling us afterwards "好玩!It was FUN!". Wow, they really grow up just too fast, right? It's good that he has these two plucky sisters who are always encouraging him to try and overcome his fear too.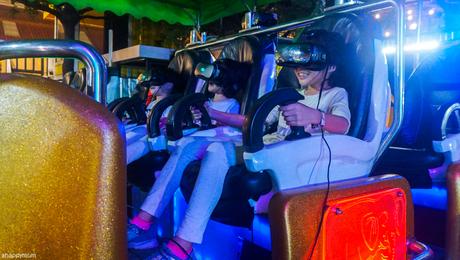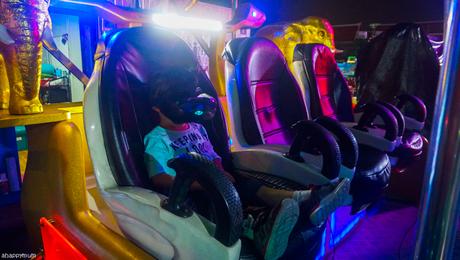 There was also a ride that they couldn't get enough of - the rotating bouncing tower (or whatever you call it). It basically rises high up into the sky and starts to turn and go up and down while giving off rainbow coloured lights. Haha. There was a minimum height stated (I can't remember but it was over 1-metre) and it was obvious that the boy was not tall enough yet at that time. He was pretty much disappointed that he wouldn't get to go on it and that was when the staff said they could allow him to ride, provided he wasn't scared and could sit in place.
I always think that this boy is not as brave as his sisters when it comes to theme park rides but he proved me wrong that night. Boy, he sat in his very own seat and didn't flinch or fidget but instead enjoyed himself immensely as he rose up and down in the night sky with Papa and his Jiejies. How fun!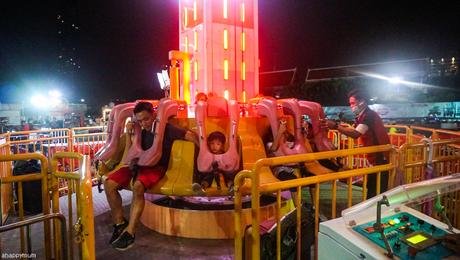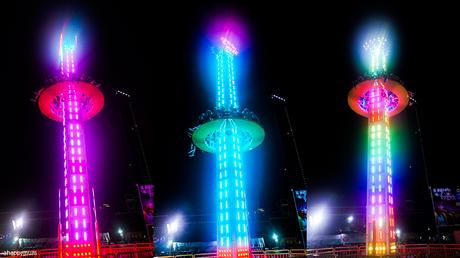 When the kids saw a track made by stacks of tires, we were wondering what it was used for. That was when we realised that they even had ATV rides! Wah, should we, should we try? Of course we did and willingly paid a hefty price for it, lol. It was the kids' FIRST ever ATV experience so I guess those memories are priceless.
The girls went on their mini ATVs which went at a much slower speed so it was pretty safe and easier to control too. The hubby went on the real deal and when we enquired if Asher could just ride with him and sit in front, they let us do it without charging us extra too. Yup, that makes our money more worthwhile and resulted in happy kids too. Just look at their smiles! This was certainly a milestone and highlight for all of them.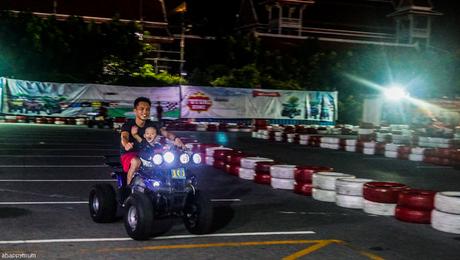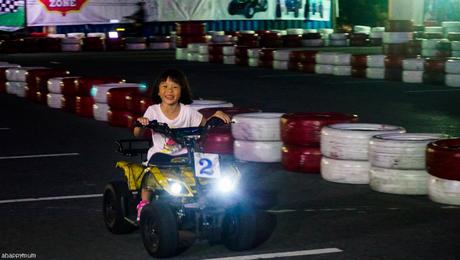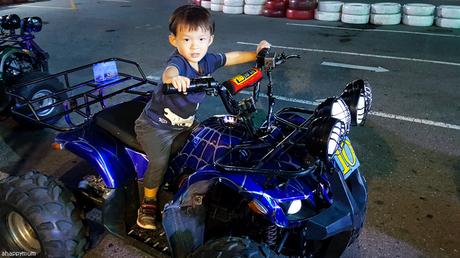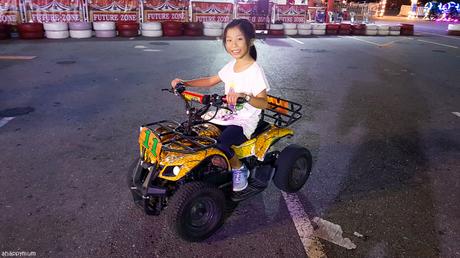 So, besides being the photographer and videographer, did I forget to let myself enjoy a little? Tell you what, I only had one thing in mind and one thing I wanted to do that night - go on the ferris wheel! Yar lar, just take my money again. 400THB for adult and 250THB for kids below 120cm, it ain't exactly cheap so I am quite sure we will only go on it once in lifetime, for me at least. Haha. It was my turn to go on a ride with the kids while the hubby sat out (that's how we try to save a bit, by taking turns) and enjoyed his coffee break.
Remember I mentioned London Eye and Singapore Flyer? Well, of the three kids, only Angel has been on them. Yes, the lucky firstborn who stayed in Europe for three years. So that means the Asiatique Sky is the first real ferris wheel ride for the two younger ones, which makes it all the more memorable us. We sang, we took wefies, we admired the bird's eye view of the city and we made it a night to remember.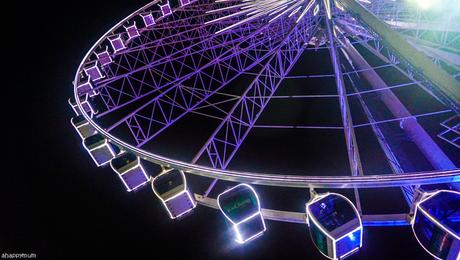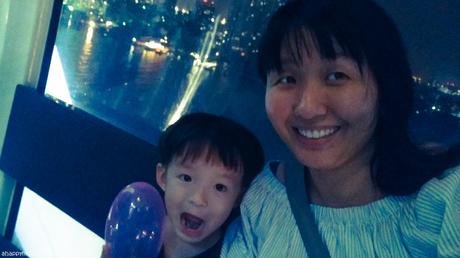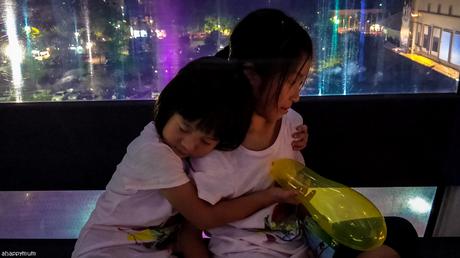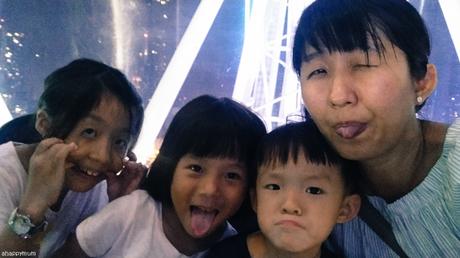 It was nearing midnight when we finally went home after a night of fun and all of us felt tired but happy and contented. Family vacations are so wonderful because we have our loved ones with us, isn't it?
I guess this is the last of my Bangkok posts and I still have more travel posts coming up to share with you soon, so stay tuned and give me some time to put it together, yeah?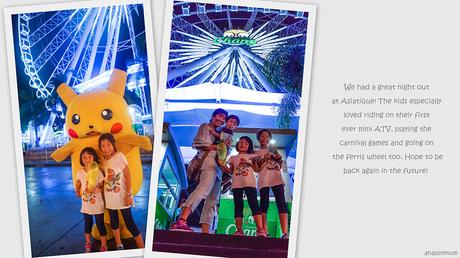 ******
To read about our Bangkok trip itinerary, visit my previous post here. You can also click on the below where I share more about each individual attraction we visited. Have fun at your next visit to this family-friendly city!


Bangkok Itinerary




Day 1 - Safari World and Central World Night Market




Day 2 - Chatuchak and Sea Life




Day 3 - Open House and Asiatique




Day 4 - Kidzania