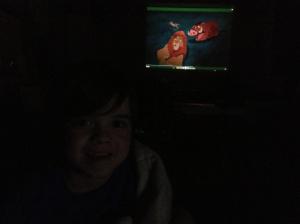 Look carefully for the excited five year old!
Most families have a movie night tradition. We are no exception. As a family without a TV we live a multimedia life through our laptops and various devices. So Movie Night could mean we all crowd around Hubby's gaming laptop or we project the movie on the 'big screen' (aka my dining room wall).
During the week I use the small projector for work. Evenings, it becomes a vehicle for entertainment. Add a couple speakers for big screen sound and voila, a mini home theater that is completely childproof. We simply disconnect the few wires and hide it away from Baby Dunk's exploring fingers during the daytime.
Five year old Mr. Sensitive always votes for the big screen, and asks for popcorn. He races around turning off lights, and climbs onto the sofa. Little Miss Adorable loves movie night too, and usually falls asleep about 30 minutes into our first feature.
I know most families have a home theater system of sorts, and many people have a movie night tradition. We like it because honestly, we are all exhausted by the end of the week, so it's nice for all of us to kick back on a Friday night and spend time together watching Disney films (a popular choice in our home).
Recently I was talking to some co-workers about their trips to the movies. They described the cost of tickets, the cost of snacks, and the excitement of a night out. This is something I haven't really done in years. The last time we went to the movie theater it was a way to escape the scorching summer heat. We did a family matinee, packed noise cancelling headphones, snacks and prepared to be entertained. Although excited about the movie, Mr. Sensitive spent more time looking at stuff in the lobby than in the theater.
So it wasn't even worth the purchase price of tickets. Movie night at home just makes sense for us.
As a child I grew up with the family gathered around the TV on Friday nights, this was before VHS, never mind DVDs. We were just happy to have around 20 or so channels on cable TV. Hubby grew up with his parents piling the kids in the car and watching movies at a drive in.
To me, the thought of sitting in a car, kids strapped into car seats and trying to watch a movie through a dirty windscreen sounds like an exercise in frustration. At least in a movie theater the seats are cushy and if the kids spill popcorn it doesn't stay in the car seats for six months.
Now if someone can help me get the popcorn out of my sofa cushions.
What's your family's movie night tradition?