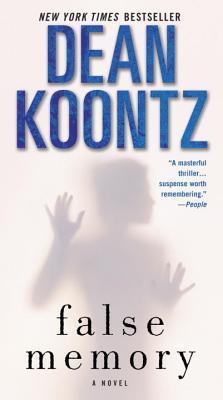 TITLE & AUTHOR: False Memory by Dean KoontzAUTHOR WEBSITE
AMAZON.UK
AMAZON.COM
WHAT'S IT'S ABOUT
PUBLISHER: BantamEDITION: EbookRELEASE DATE: 20 July 2007 (first published 1999)OPENING
PAGES: 573WHAT I THOUGHT
SOURCE: Digital Library
The spectre of mental illness is frightening enough on its own. In the hands of the master of suspense, Dean Koontz, it's both epidemic and horrifying. Never has the saying "There is nothing to fear but fear itself" been more true. And never has fear been so, well, frightening.
In False Memory, a bone-chilling tale of fantasies, phobias, and false memories, Koontz has crafted yet another masterpiece of subtle terror, an all-too-plausible tale with the most powerful and devious of enemies - one's own mind.
Martie Rhodes is married to a man she adores and has a successful career as a video-game designer and a life many would envy. But there are a few hitches. Once a week, Martie escorts her best friend, Susan, to a psychiatrist's office, where Susan receives treatment for the severe case of agoraphobia that suddenly took over her life 18 months before. And Martie's husband, Dusty, has a younger brother who is sweet, naive, and addicted to drugs.
Still, Martie's life is relatively stable until the morning she awakens with a sudden and inexplicable fear of her own. It is a fear unlike any she has ever encountered or even considered. It is a fear she may not be able to control. It is a fear of the one thing she should be able to master but can't. It is a fear of herself.
It begins innocently enough with a sense of disquiet that Martie experiences while walking the dog, an odd feeling of fright when she sees her own shadow. But things quickly escalate, and within hours, horrifying images fill Martie's mind, images of blood and violence committed by her own hands, committed against herself and the one person she loves most: her husband, Dusty.
Martie soon learns that her condition has a name: autophobia. When she shares her fears with her husband, Dusty finds himself torn. On the one hand he is desperate to be there for Martie, to learn the cause of her mental condition and try to find a way to fight it. On the other hand there is his brother, Skeet, whose recent backslide has led to a suicide attempt - a harrowing scene that nearly costs Dusty his life as well.
It's while caring for his poor, drug-addled brother that Dusty accidentally stumbles upon a quirk, a quirk that suggests Skeet's problems may not all be of his own making. When Dusty discovers that the same quirk may be behind Martie's mental illness, he is thrown into a nightmare of astonishing proportions. To save those he loves, Dusty must confront a monster whose power over him, Skeet, and Martie is unthinkable, a monster who has already destroyed dozens of lives and thinks nothing of racking up a few more.
On that Tuesday in January, when her life changed forever, Martie Rhodes woke with a headache, developed a sour stomach after washing down two aspirin with grapefruit juice, guaranteed herself an epic bad-hair day by mistakenly using Dustin's shampoo instead of her own, broke a fingernail, burnt her toast, discovered ants swarming through the cabinet under the kitchen sink, eradicated the pests by firing a spray can of insecticide as ferociously as Sigourney Weaver wielded a flamethrower in one of those old extra-terrestrial bug movies, cleaned up the resilient carnage with paper towels, hummed Bach's Requiem as she solemnly consigned the tiny bodies to the trash can, and took a telephone call from her mother, Sabrina, who still prayed for the collapse of Marie's marriage three years after the wedding.
I enjoyed False Memory. I wasn't sure what to think for the first few chapters as events were a bit confusing but I soon settled into the rhythm of what was going on. False Memory has a great concept - exploring how phobias can affect even the most rational, in control people. Some unpleasant things happen to the characters. Susan has been crippled with agoraphobia since her marriage fell apart. Martie inexplicably develops a phobia of herself and what she might be capable of. Martie's brother-in-law also has a strange phobia and is suicidal. Koontz gradually reveals how these things are linked and what sinister puppeteer is pulling the strings. I liked the fact that Dusty (what an awful name) and Martie set out to get their own back on their tormentor instead of hunkering in the shadows. I didn't like the fact the title of the book gives away a huge plot element. Many writers do the same thing. The villain is incredibly creepy and terrifyingly real - I bet there someone just like him in the world somewhere. False Memory unsettled me because I could imagine how terrifying it would be to discover someone has got inside your head and turned you into a puppet. I do think the novel was over-long and started to run out of steam during the last fifty or so pages and the ending wasn't the best. One of the best scenes is when Martie and Dusty start to put the pieces together and realise how the strange things that have happened recently are linked. Talk about giving me the chills. I'd recommend False Memory if you want to read an original thriller.