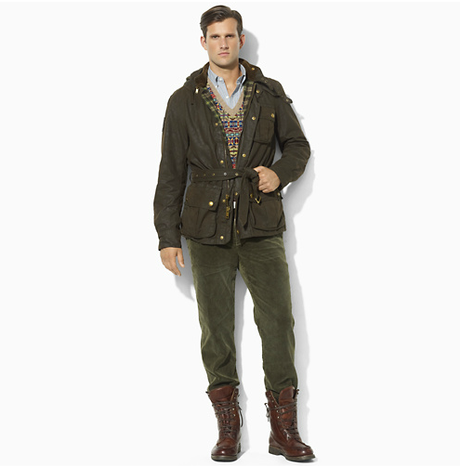 Fall collections have started trickling into stores, and as usual, I'm mostly interested in outerwear and shoes. Partly because I think these tend to be the more exciting pieces in ready-to-wear lines, and partly because I think jackets, coats, and shoes really make or break an ensemble. A mediocre pair of chinos and button-up shirt can be made outstanding if a man has the right coat. Likewise, a well-cut suit can be, and often is, ruined by a bad pair of shoes. 
For outerwear, I'm really excited by what's come into Ralph Lauren. This cotton twill jacket, for example, has a nice cinch back detail, full lapel collar, and adjustable button cuffs. The shooting patch and four-pocket design keeps things sporty, and the jacket looks like it would wear perfect with a pair of dark brown corduroys. With a sweater and button up shirt layered underneath, this could be a winner. 
I also like the company's new oilcloth bike jacket, which comes with a belted rigging and corduroy mock neck collar. The slightly stand-up collar design is a nice way to frame your face and add some panache without doing something as obnoxious as actually popping your collar. Thankfully, the hood is removable, though we'll have to see if that silly looking patch on the arm can be taken off with a seam ripper. Additionally, there's this Morton Aviator jacket. The company had a version of it last season, but in an unappealing color. This season, it's in the perfect shade of brown, albeit in a less-than-ideal price tag. Again, four pocket design (flapped), stand up collar, and a nice cinch detail on the back to adjust the waist. 
Outside of Ralph Lauren, I've also been thinking about John Partridge's Walden. It's actually on sale at the moment at Country Attire, and they're giving an additional (though small) discount because of the Olympics. This waxed cotton jacket comes with a half-belt detail on the back, hand warmer pockets, and wool collar. It looks not too dissimilar from Barbour's Beaufort, but it has the advantage of having a number of zippered and snap-button internal pockets. It's also coming to A Suitable Wardrobe this fall, I believe. 
For shoes, Brooks Brothers has a new version of their tie loafer in suede. I really liked the original design, but was a bit unsure of the pebble grained leather. Smooth calf is what I originally preferred, but now seeing it in suede makes me think this is most ideal. I'd love to wear a pair from late spring to early fall. Brooks also seems to have widened their Edward Green line, and now carries models such as the Piccadilly, which I've always considered to be one of the best looking penny loafers on the market. 
Finally, Rancourt posted a picture of this unlined five-eyelet suede boot on Twitter recently. It's similar to their mushroom suede boot, but made in a peanut brown color and set on a honey reltex sole. Since everything at Rancourt is made-to-order, you can get this design made now (or in any other upper and sole combination you fancy). A nice casual boot for something like jeans and that cotton twill jacket you see below.