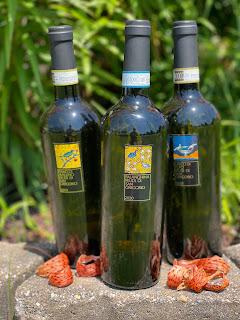 Are you like me and tend to drink more white wines during the summer? There is no reason not to uncork white wines just because the weather gets cooler.
As the autumn weather arrives, I've sampled three Italian white wines that you will want to sip and enjoy this fall.
Located in southern Italy's Campania region, Feudi di San Gregorio was established in 1986 and is home to 740+ acres of vineyards. Among the vineyards, there are 200 plots that belong to local families that sell their grapes to Feudi di Gregorio. The grapes are grown in five designated appellations: Sannio Falanghina DOC, Irpinia DOC, Greco di Tufo DOCG, Fiano d'Avellino DOCG and Taurasi DOCG.
This past June, Feudi di San Gregorio became a B-Corp. A B-Corp Certification identifies companies that operate in accordance with the highest standards of verified social and environmental performance, transparency, and responsibility in order to generate a positive impact on their employees, the community, and the environment. In recent years Feudi di San Gregorio has implemented low-impact cultivation methods, adopted increasingly sustainable packaging components, exclusive use of energy from renewable sources, and invested in social projects.
Discover the indigenous grapes of Italy through Feudi di San Gregorio this fall. They won't disappoint.
2020 Feudi di San Gregorio Falanghina SRP $23 - From the Sannio Falanghina DOC that is located close to Mount Vesuvius, this wine spent 5 months in stainless steel on the lees and an additional month resting in the bottle before it was released. There were some nice floral notes coming from the glass, along with hints of minerality, apple, pear, and white spice. Crisp minerality on the palate was very refreshing. Notes of orange, pear, and honeydew with a long white spice finish with nice acidity.
2020 Feudi di San Gregorio Greco di Tufo SRP $28 -Grown in the Greco di Tufo DOCG appellation, these grapes were located 1400 - 2300 feet above sea level. Tufo means chalk, and the grapes were grown in calcareous soil, giving it the minerality that we taste. This wine was aged 3 months in stainless steel on the lees and another month in the bottle before released. Aromas of citrus zest, apricot and apples with hints of minerality. Racy acidity with notes of green apple and minerality that shines.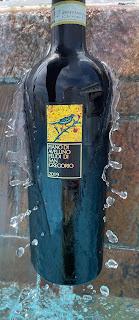 2019 Feudi di San Gregorio Fiano di Avellino SRP $28 - The Fiano di Avellino grapes are grown between 650 and 1650 feet above sea level. On the surface, their soil is moderately calcareous, but the calcareous is also at the deeper levels of the soil, giving this wine the minerality. Aged 3 months in stainless steel on the lees with another month in the bottle before release. Aromas escaping from the glass are floral, peach and orange blossoms. The wine is fresh and full of minerality.