Caress Forever Collection
Caress Forever Collection & Perfumer Loc Dong presents. The World's First Body Wash with Fragrance Touch Technology. Pearls activated scents that help release 12 HR of long lasting Fragrance perfume every time you touch your skin.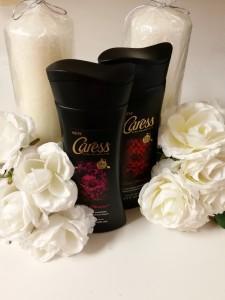 Perfumer Loc Dong, took more than 25 scientists across 4 continents to come up with amazing body wash that will have you scratch and sniffing your self all day.
Loc Dong has experience with two decades of creating more than 40 renowned scents for major fashion and fragrances houses. He was inspired by the confident and sensual modern woman.
My Experience: Caress Love Forever and Adore Forever.
I was excited to try Love forever collection, Caress has always been one of my favorite brands for bath products. My first impression was the sexy hour-glass shape of the body wash and the beautiful artwork on the bottle of Love Forever. I can't count the number of times; I've dropped huge bottle of body washes in tub. I love the shape of the new love forever collection it made it so much easier for me to hold while I was showering with slippery hands. Both body washes come in luxurious black bottles that at made it easier for me to spot on shelve at the local drugstore.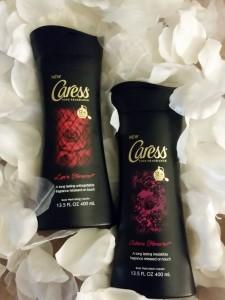 After purchasing I rushed home to jump in the shower. Wow what an amazing experience I had. I was pleased with the sweet smelling fragrance as I applied the body-wash it gave me a very pleasant and enticing feeling. I began to mental escape right there in the shower I close my eyes & imagine my self running through a rose garden in Paris. Once applied on towel the colored body wash produces plenty of thick creamy lather foam that was intoxicating to my nose.
I was so pleased with my Caress Love Forever threw out the rest of my day, I found myself taking deep breath in my car, at work just to smell the scent on my body. I was so amazed how the Caress® Forever Collection scent smell clings to your body for hours. My boyfriend came over later that evening gave me a, hugged me, and said you smell amazing. This body wash by Love Forever had me feeling as if I was a bundle of roses. The aroma you'll enjoy all day is
Pro:
*Long lasting
* Thick lather
* High quality body washes
*leave skin moisturized
* Works great on dry, flaky skin,
* Great for people who are sensitive to Perfume
* Touch activated so just imagine the possibilities with shower with your mate
Con: None
Plus: Had my bathroom smelling like Fresh Cut Rose Garden for hours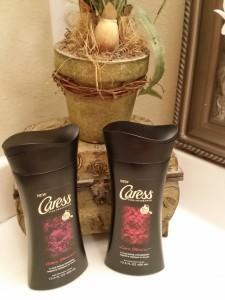 Check out the different choices below
Love Forever
Top Note: Mandarin Orange and Peach
Heart Note: Scarlet Red Rose, Peony and Freesia
Base Note: Sandalwood and Vanilla Musk
Adore Forever
Top Note: Raspberry and Cassis
Heart Note: Angel Face Rose and Muguet
Base Note: Amber, Honey and Vanilla
Fans of Caress: Want more info about The Caress Forever Collection Fragrance is emotion brought to Life. evokes love, passion, sensuality, and elegance. Follow @Caress. #CaressForever
HouseofCaress.com
You can find the Caress Forever Collection available at your local store walmart, kmart, target, cvs, walgreens or at drugstore.com- fabulous steal, Start at only $3.99
Caress Forever Collection
All Opinions & Reviews are 100% my own.