Follow my blog with Bloglovin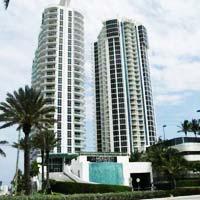 Le Meridien Hotel Miami Beach
If you like luxury, you will love Le Meridien. A safe distance away from the hustle and bustle of South Beach, Le Meridien Hotel provides the perfect retreat for those who prefer the prettiness of Miami minus the partying.  If you want nothing more than to relax and be pampered, you can watch the palm trees sway while enjoying a massage on the spa's outdoor terrace. Located in-between South Beach and Fort Lauderdale, this hotel is a beachfront oasis of calm. Unlike other South Beach hotels, you won't find glitz and glamour around every corner but this luxurious retreat is guaranteed to put you in relaxation mode from the moment you step inside.
Here are five reasons to love Le Meridien:
Laid Back Luxury: After experiencing the party scene in South Beach, the tranquility and calm that can be found at Le Meridien provides the perfect escape. Hours of relaxation await every guest whether you choose to relax in the spa or enjoy an in-room massage.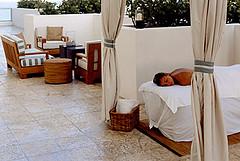 The Caviar Facial-The 6,000-square-foot spa is a hot spot for those who want to indulge in a pampering session. The hotel's signature treatment is an 80-minute caviar facial that promises to leave your skin feeling rejuvenated and refreshed.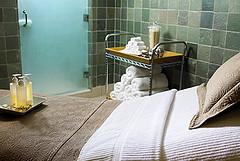 Sparkling Sea Views-Due to the design of Le Meriden, all of the rooms offer breathtaking bay and ocean views. Balconies are sunny and spacious allowing you to enjoy the stunning scenery from the comfort of your own room.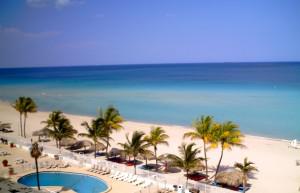 Gorgeous Guest Rooms-Unlike other luxury hotels, Le Meridien's attention to detail and focus on luxury can be found in every guest room. Each room features a king size bed that boasts luxurious linens and offer the latest technology and complimentary Wi-Fi access. Spa quality en-suites complete your luxurious living experience.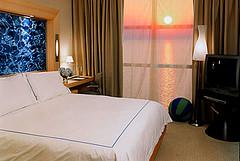 Standard guest room
The Chocolate Soufflé-Saying I have a sweet tooth would be an understatement so you can imagine my delight when I saw this on the in room-dining menu. Can't be bothered to sample the sushi from the Bice Restaurant? As a guest at Le Meridien, you can have the most delicious treats served to your room 24 hours a day.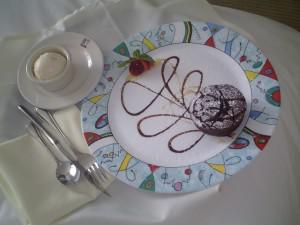 Room Service