The fashion world is a unique one. It is a world separated from the rest by drama, imagery, and consistently changing trends and looks. Instead of four seasons, there are six to include those transition periods. What is in one day is out the other, not because it has lost its steam but just because something newer and "better" has come along.  A lot of this has to do with the way the actual industry of it works. Collections are shown on runway seasons before they hit the stores. This allows the buyers to forecast what will be hot, what they want to sell and what they can put together from the various collections they have seen to create a look that is all their own.
Editorials also need this preview time in order to write about the trends that will actually be in full swing once their magazine gets published. In other words, fashion may start its process in advance, but only so we can take the time to fully appreciate and experience each season. It allows us to prepare and shop for those trends while we see them being released, instead of scrambling for a bathing suit the first day the sun comes out. If we know pink is going to be a popular color, we take our time to search for the perfect pink addition to our closet and not just buy the first thing we see.
When you see a trailer for an upcoming film, you get excited and mark your calendars for when it will premiere. When the sequel to your favorite book is coming out, you look forward to the day you can continue the story. If a new version of your computer or phone comes out, you want to trade up to that one as soon as you can. Well, fashion is just like that!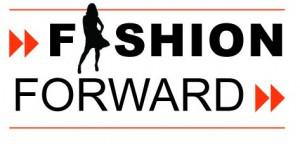 The most anticipatory news for fashion comes in the famous September Issue of magazines. The ultimate guide to Fall Fashion, which is arguably the biggest season for designers, September issues of all fashion magazines are said to be the most purchased and largest issues of the year. And since magazine sales are driven so much by the cover, lets take a look at some of the September issues that have leaked to see which celebs, designers and looks are leading the way!
Elle Naturale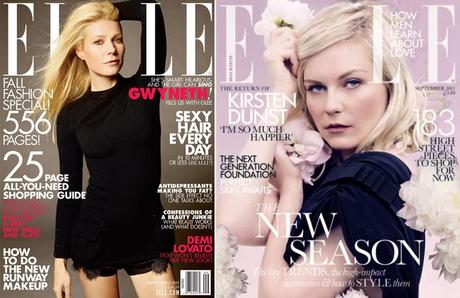 Whether you're in the US or the UK, Elle magazine is featuring a natural looking Gwyneth Paltrow (US) and Kirsten Dunst (UK) on their covers for September. With barely there make up, black dresses and white text, Elle wants us to focus on the simple things this season.
September is Still Red Hot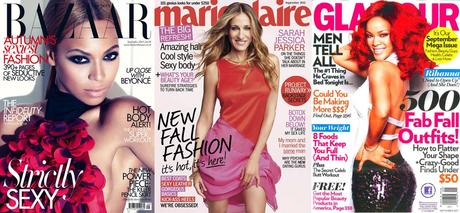 Red is having its fashion moment, make that its fashion YEAR, and continues to dominate runways and editorials, ready to wear and evening wear alike. Harper's Bazaar UK, Marie Claire, and Glamour magazines all feature some pretty big celebrity names when it comes to fashion all wearing punchy red and pink styles. Beyonce and Sarah Jessica Parker have been styled in the colors whereas Rihanna is rocking her infamous red locks, but either way, all three cover girls look like they are in their style element, which is edgy and fun!
Brunette Bombshells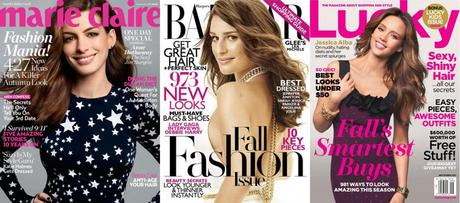 British Marie Claire, Harper's Bazaar and Lucky magazine all went with some of Hollywood's hottest names and faces including Anne Hathaway, Lea Michelle, and Jessica Alba. Showing off their relaxed curls and surrounded by pink texts, we can expect a transition season of lots of  soft, feminine looks that still pop!
It's All About Fashion, Baby!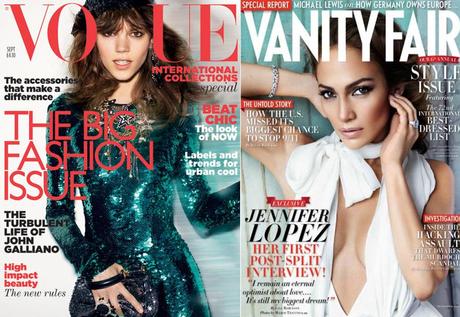 Finally we take a look at two September issue covers that are oozing with glamour, beauty and high-fashion! British Vogue and Vanity Fair have used what I find to be a chic color palette to grab our attention from the racks. The teal blue, red and white layouts make the leading ladies Freja Beha Erichsen (Danish Supermodel) and Jennifer Lopez and their gorgeous dresses really stand out. I think these two issues win when it comes to making me want the cover style for the whole rest of the Fall/Winter season. Opulent, striking, and oh so unique, I vote British Vogue and Vanity Fair the #1 spots. But let's see what the sales say!
Which September issue cover is your favorite? Have you seen some other editorials with show-stopping covers?