Hello everyone,
It's Friday and the beginning of a Holiday weekend! Would you believe that I totally forgot about that? I had to be reminded by a friend of mine. You would think that I would be on top of Holiday weekends!
I'm extremely happy to announce the winner of the prize giveaway from last Friday's post on the fall color red.

Congratulations, Julie! Please e-mail me your contact information.
Last week Friday, I mentioned that we are starting a new Friday HomeSpirations series on Designing with Fall Colors. I started it off with the color red. Today we're going to be designing with orange.
Fall is the time of year when orange comes into your home interior design. Colors like rust, burnt or sienna. Some of us may not want to live with the color orange all year round. However, when Fall approaches we get inspired as we start seeing the fall foliage and the pumpkins. As a result, orange is now part of our design thoughts. Color therapists say that the color orange makes us feel cocooned. When the weather starts to get chilly, we want to surround ourselves with warmth, and that includes warm colors in and around our home.
Did you know that orange is described as sensual and fun? It's a color that can make you more creative!
This rich and vibrant color can be paired with colors such as white, cream, blue, tan, brown, red, green or even purple. So it's just a perfect color to enhance the existing color scheme in your home. When decorating with multiple orange accessories, vary shades slightly and mix textures to get the perfect blend.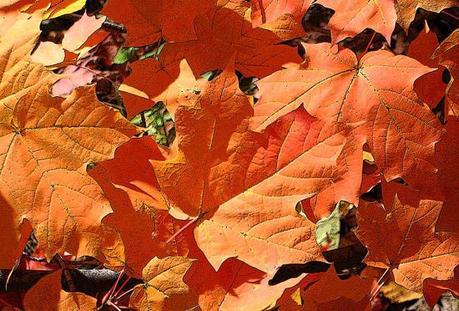 You can always start your fall decorating simply and at your own pace. Take the tablescape below–it's beautiful and creative with brightly colored pumpkins. I love the tall vase containing a few branches of leaves.  It's an inexpensive way of bringing nature into your home.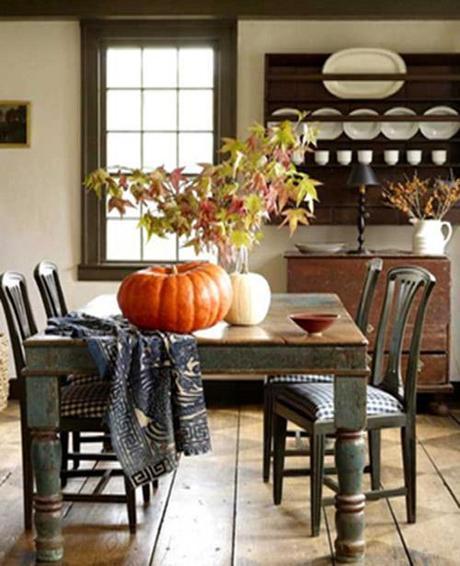 I love the way that the orange gives a burst of color in this neutral color room. Very crisp.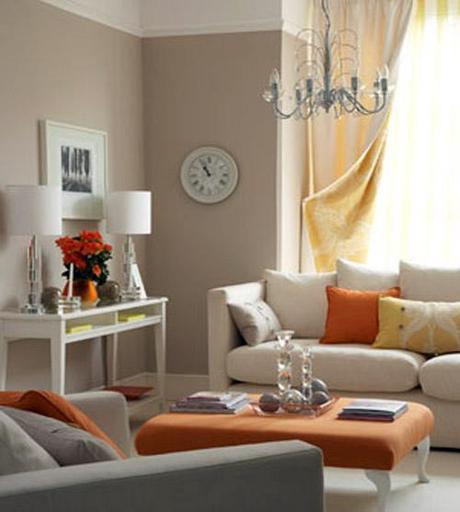 Don't you just love the way the orange throw and cushions compliment the glowing embers of the fireplace? It's such a cozy room.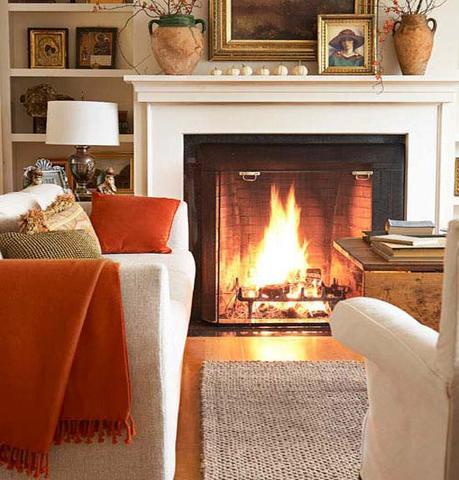 Do you want a unique idea for a table centerpiece? Carve an opening in your pumpkins wide enough for your candle holders. You can insert scented fall candles like apple, and pumpkin. Your guests will be copying you. If you don't have an orange table runner, you can use leaves that are washed and dried from your backyard to scatter around the pumpkins.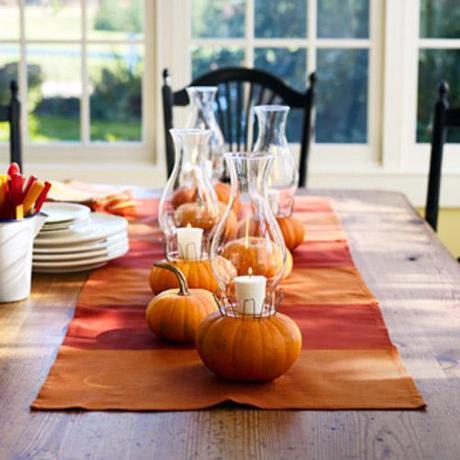 This is such a beautiful color scheme of dark blue, orange and gray.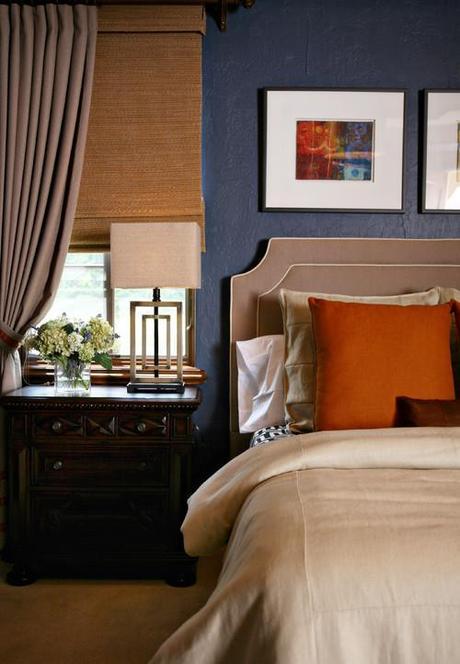 Isn't this creative? This is what orange does for you–it brings out your creativity. The owner of this room painted a mural to resemble fall leaves. Ingenious design.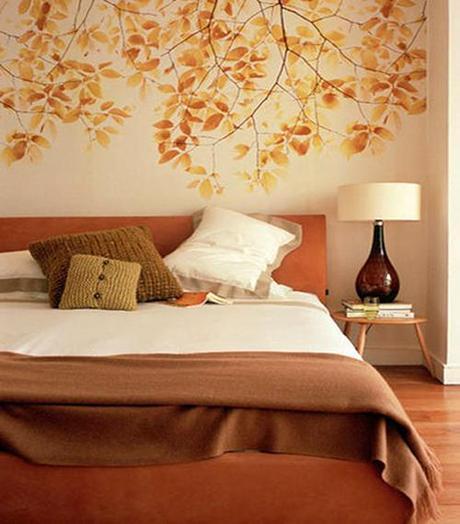 We can't forget the front door! It needs its seasonal treatment, too. Can't you just picture your guests' and neighbors' reaction to this beautiful wreath? I like the square geometry of the wreath; it is totally different from the usual round ones and it's tied using a burlap cloth.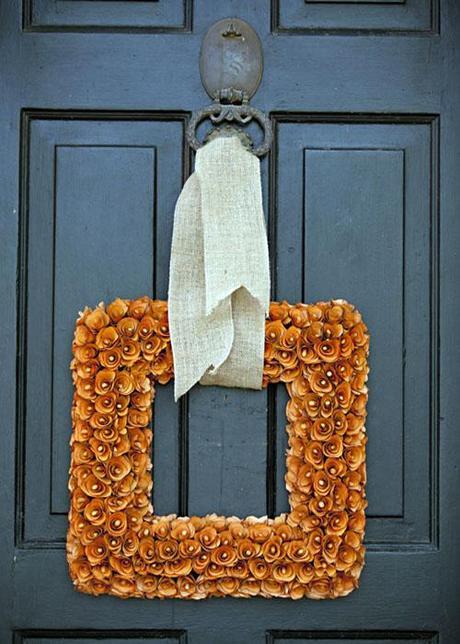 Orange mums provide eye catching curb appeal to say the least.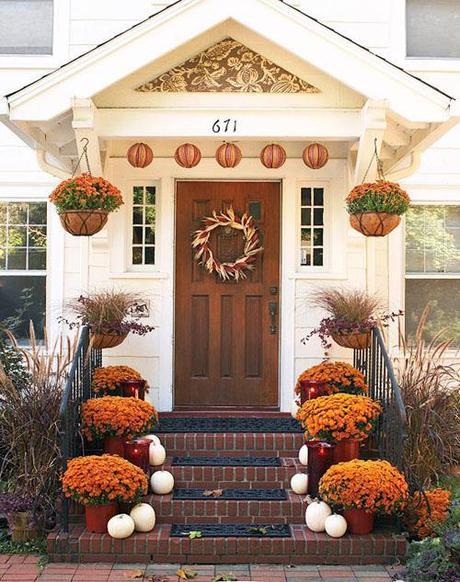 Finally, we cannot forget the mantel– it's the focal point in the room. It's easy to give the mantel a Fall flavor by using different sizes and textures of pumpkins and a scattering of fall leaves.  How simple is that?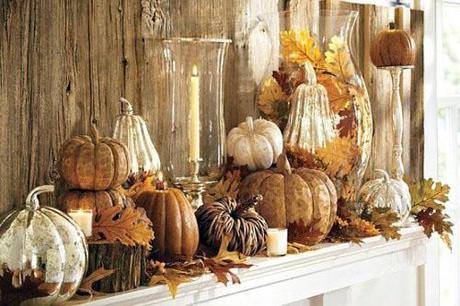 I don't know about you, but I'm quite enjoying this series. I did this color scheme from a suggestion from one of my readers. Do you have another color your suggestion for me to cover next week? It would be my pleasure to do it for you. Just let me know via my Facebook page.
Yeah! It's a Holiday weekend! Love it! And the weather predictions are nice!
Have a safe and fun filled Labor Day weekend, everyone.
Simone