Hello everyone,
Now that the political conventions are over, it's time for life to return to normal. Did you ever wonder if those convention buildings would start rising as hot-air balloons? Anyway, I hope that you've got some really great plans for the weekend. My plans consist of getting our garden and backyard primed for fall plantings. As we start September, I'm seeing more and more leaves falling. At least my hummingbirds are still visiting me, though I know they'll be leaving me soon to head south.
Fall is all about appreciating and applauding nature's golden season. It's about bringing the outdoors inside, through colors, patterns and textures. It's a season where you showcase your interior design creativity by trying to find ways to incorporate the beauty and warmth of the fall colors into your décor. Consider using colors such as cream and brown for your fall accents. Choose natural elements with interesting shapes and textures.
For today's fall interior design color, I'm in the mood to design with brown. No doubt this is partly because of my love for chocolate.
The color brown is a very versatile color. It goes well with black, cream, yellow, orange, red, gray, green, and blue. It's a warm neutral color that can stimulate the appetite. Brown is a year round color, but it's often used in home décor during the fall and winter season. The brown color family includes lighter shades such as tan, taupe, beige, or cream. If you're looking for a background, the brown color family helps brighten your décor, making it appear richer and brighter. Use brown to convey a feeling of warmth, honesty, and wholesomeness.
As you're re-decorating for the fall, remember that your bedroom needs to feel loved. Swapping out your summer linens to a fall color instantly brings warmth into your bedroom. Include a scented seasonal candle on your nightstand to make it even warmer!
I don't about you, but now I'm really tempted to go and eat some chocolate ice cream or gelato.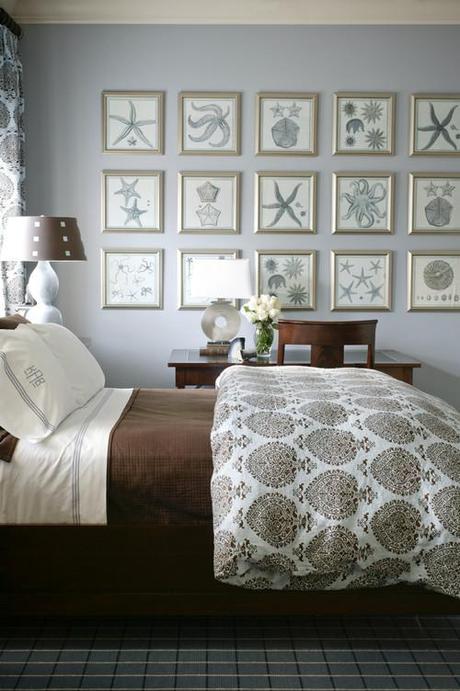 Talk about cozy, cuddly and inviting.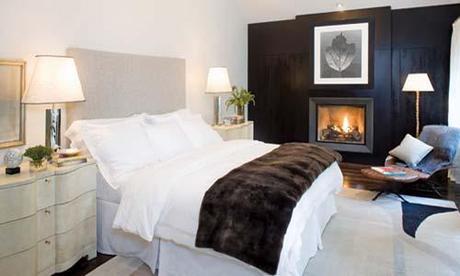 This is a very monochromatic room but it's still comfy with the plush cushions and rug. I can imagine myself sitting here with a hot toddy!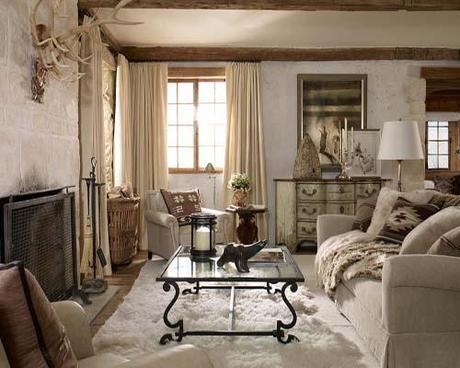 So earthy! It's definitely nature inspired and, most importantly, it has your doggie approval.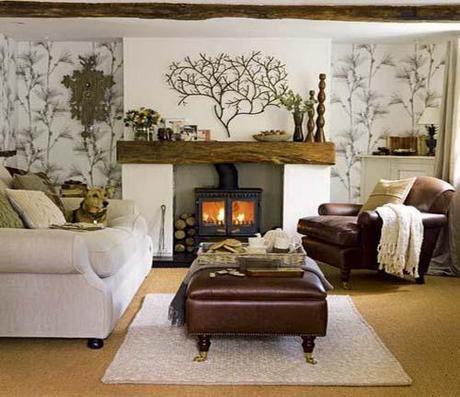 Lovely use of the many shades of brown.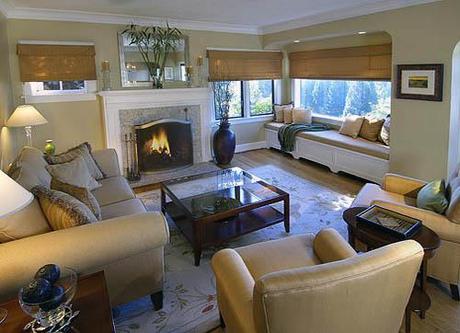 These accent pieces in red and yellow reminds of sorbet.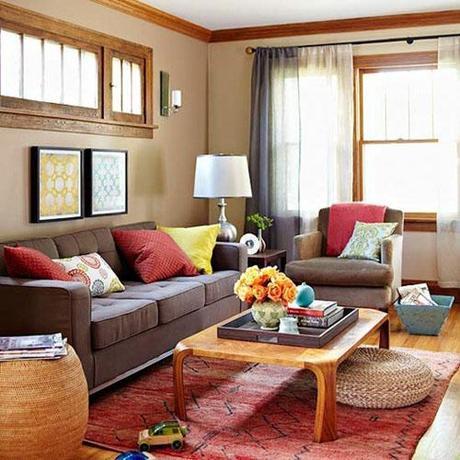 Do you want a centerpiece that can be changed on whim? You can purchase some inexpensive ornamental grass or mums or whatever flowers you like to create a centerpiece. I like this one a lot. I can just see it on my breakfast table! It's a single cattail stalk with a fuzzy brown head and slender green stalk. It's beautifully grouped together with a base of dried nuts. Another idea could be to put fall-colored vases around your home in spaces where you wouldn't expect to see fall decor.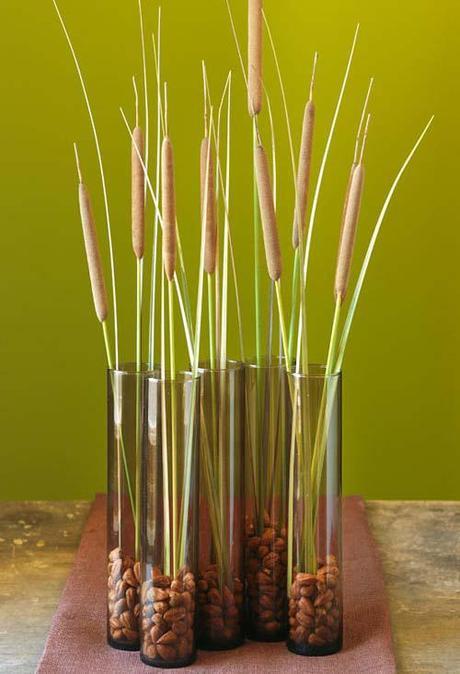 The more traditional route: candles are always elegant.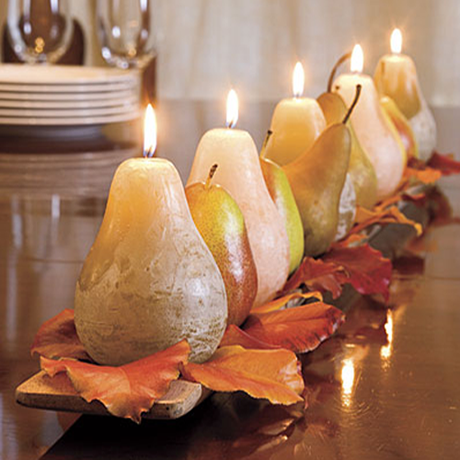 Or do a DIY project as a centerpiece. Try hot gluing some pine cones to twigs. Its simple and inexpensive.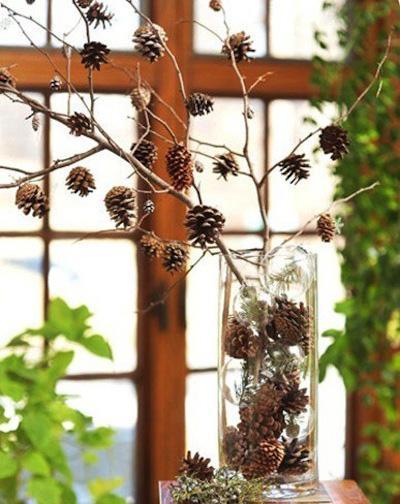 How about adding some cinnamon sticks for additional scent?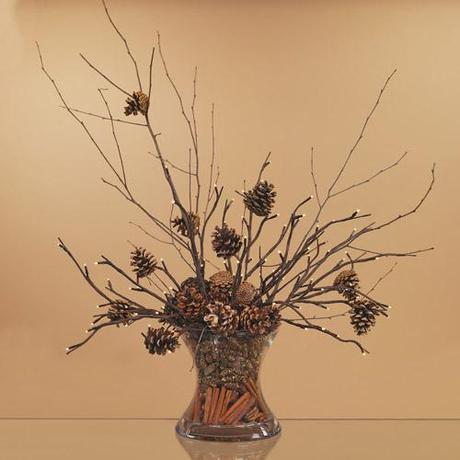 If you have a fireplace and it's the focal point in your room, doing something as simple as adding clear vases with pine cones and candles to your mantle brightens it up and adds the feel of fall to your room. Small touches like these make your home inviting and welcoming to your friends and family. It's these little added touches that attract your family or guests to a room.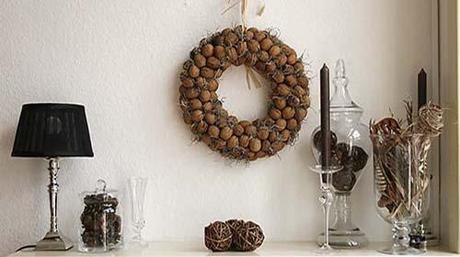 You know I have to end it with a wreath. Every door should have one. It's the first thing your guests see so make sure it's festive and has pizzaz!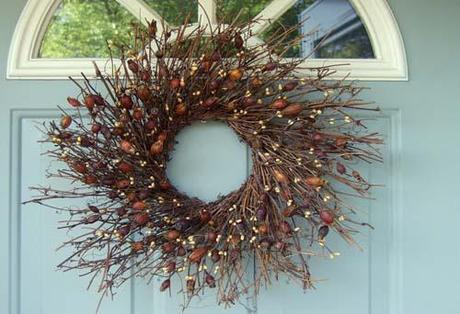 I saved my favorite wreath for last. I think it just fabulous and very unusual because of the feathers. The inclusion of the yellow squash gives it a lovely burst of color too.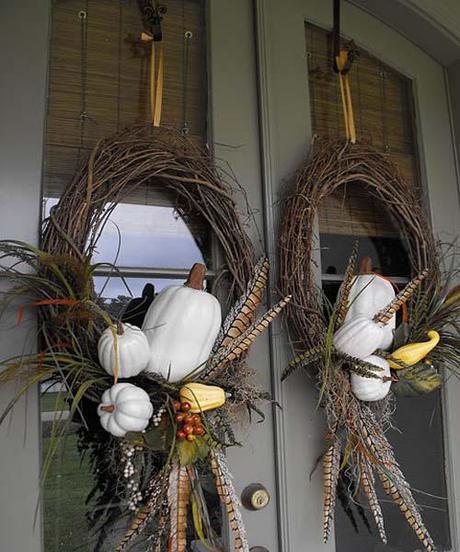 I think I've satisfied my sweet tooth for the moment, don't you think?
I hope you're enjoying this Fridays Fall Designing Series. I know I am. Doing this series is making me really look forward to fall. I'm not a cold weather person, but all of sudden it's beginning to appeal to me.
Whatever you do this weekend, whether it's preparing your home for fall or just relaxing, have a great one!
Simone