I always appreciate a good editorial that takes you out of the world of fashion and into the world of fantasy. The type of editorial where it seems perfectly normal to be in an evening gown in the middle of a raining playground, or spreads that showcase avante garde makeup with messy hair and cut-off jeans. In other words, I like things to surprise me. And I was totally and completely surprised to see that one of the spreads in Harper's Bazaar's August issue starred the one and only, Smurfette! That's right—the cartoon character! Whether the intentions behind this "shoot" were to promote the upcoming animated film or not, the fashion editor still had a stroke of brilliance when it came to this idea to showcase some of Fall 2011's hottest accessories.
Accessories are something everyone can wear—whether you're tall, short, thin, round, or anywhere in between. Accessories are what define your personal style and what elevate your clothing from looking the way it was designed to the way you wear it. Bags, hats, belts, scarves, shoes and of course jewelry are all just as big a part of the fashion game as clothing is. Notice designers generally start with a clothing line, and after a few successful seasons, those designers introduce accessories to complete their overall vision and brand image.
Here, in this Smurfette spread, I think the four styles and designers Harper's chose to showcase are a great preview for what is to come this fall! If a cartoon can pull off these high fashion looks, there is no reason you can't either! But you also don't have to reach for the $1,485 Lanvin necklace either just to get these fall trend looks. Check out 1928's interpretation of each shot styled by Harper's Bazaar of what is yet to come this Fall in the world of jewelry and accessories!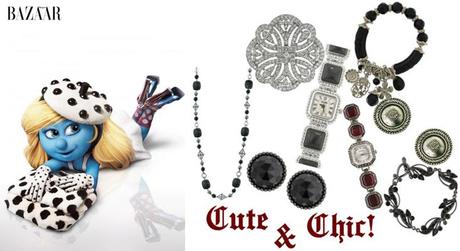 Marc Jacobs accessories for fall are cute and chic all rolled into one. With a quirky fall campaign and all the polka-dots, we're loving accessories that add a vintage twist to anything!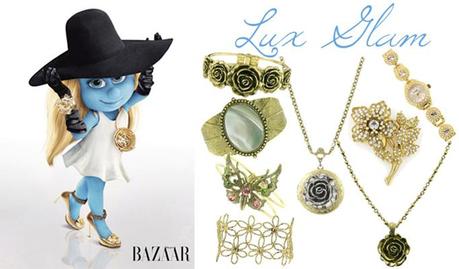 Lanvin is known for luxury and this season proves no different! Sophisticated and simple silhouettes make that jewelry really shine!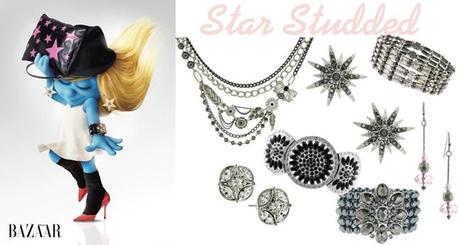 Dolce & Gabbana puts the fun in fashion! Without having any kind of rocker-edge, they have managed to make stars and sparkles look sexy and stylish as could be! With accessories being as big as ever, you cannot be afraid to stand out and shine bright!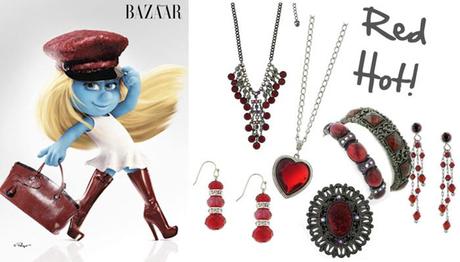 Louis Vuitton believes red is only gaining its momentum as the "it" color and I'm happy as could be we aren't saying goodbye to the vibrant hue just yet. It adds a sassy pop to any outfit and comes in so many different hues. Blend it with neutrals or go all out fashion, but don't forget red accessories in your closet this Fall.
–