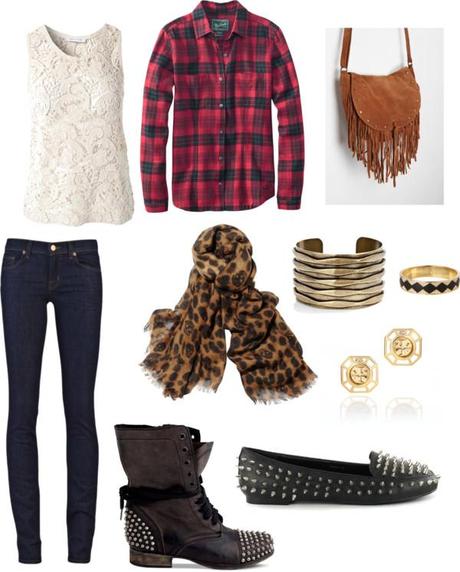 fall 2012 by jayfletch22 featuring tory burch jewelry











You all probably know that I am OBSESSED with polyvore. It is so simple to lay out outfits, and then find similar pieces when you go shopping. That way, when I'm at the mall, I don't spend tons of money on impulse clothes.
So I have also been obsessed with studs and lace this fall,and flannel is always really popular when it gets cold. I would leave the flannel shirt unbottoned, so that you can see the lace underneath, and it will break up the patterns a bit from the flannel and cheetah print scarf. I love how this outfit incorporates studs, lace, and fringe. It also mixes gold and silver, as well as brown and black. I know I have heard from some sources to NEVER mix those colors and pieces together, but in this outfit, everything just works together, don't you think?
I hope you like it! I can't choose a favorite piece because I love them all, but do you have a favorite?
   Thanks for reading!