Question: HOW BAD WAS THE CONDUCT OF WALL STREET'S FINEST?  
Answer:  Well, read on.  You'll get the idea.
* * *
Today, Wall Street Law Blog examines the scope of fraud and the financial crisis by presenting a simulated episode of our favorite game show (not Card Sharks). The star of our spoof is a hypothetical supercomputer and a fictionalized (though fairly realistic) version of the king of all game show hosts (not Gene Rayburn or Bob Ewbanks - though we have reserved spots for Gene and Bob on the Mount Rushmore of game show hosts).
Rather than drone on with explanations, let's dive right in...   
 * * *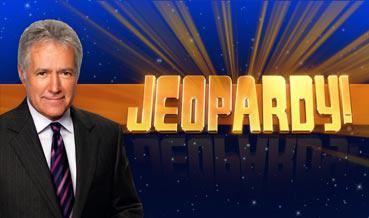 Announcer:
THIS - IS - JEOPARDY!
(Actually fake Jeopardy!)
And now, please welcome your host of fake Jeopardy, fake Alex Trebek-
Alex:  
Thank you very much Johnny.  And a warm hello to everyone in our fake studio audience and to all those at home.
Tonight we welcome back our returning champ, Clark, the souless supercomputer that "thinks" like a Wall Street Quant and "speaks"   in a voice that reminds us of a poor man's Stephen Hawking. Rumors are flying that the voice is done by that guy who made all those weird sounds in the Police Academy movies (no, not Steve "Cocoon" Gutenberg). The name of the actor / impressionist is on the tip of our tongues. After the Police Academy franchise was put out to pasture, the guy had a small role in the Mel Brooks classic, Spaceballs! (no, not Rick "Strange Brew" Moranis). 
Clark:
Nice to be here,  Al-lex.
Alex:
Just a few housekeeping issues before we get started-
Because no human can possibly defeat Clark, and since no other company is wasting its time and money building a robotic game show contestant, we have run out of challengers for Clark.  So, sadly, this will be the final appearance for Clark - the "man of silicon" - on Jeopardy!
And, with only one contestant, we have altered the format of our game tonight.   Legend has it that this evening's edition of the program is the first time since way back when, in '67, when Merv Griffen hosted Donald Fagan, Vanna White, Pat Sajack, Mike Douglas, Dinah Shorr, Sammy Davis and a handful of other FOMs (friends of Merv) for wine, cheese and an impromptu homemade board game in the parlor of Griff's Tuscan villa, that Jeopardy! will be played with just one category.  
Johnny, tell us tonight's sole topic.
Johnny:
Right Alex.  Clark, tonight's category is (dramatic pause) - OF MORTGAGE BONDAGE.
Alex:  
 Of Mortgage Bondage.  Can't wait to find out what that's all about.  
Clark, are you ready?
Clark: 
Charged up Al-lex.   
Alex:
 Ah, a little hard drive humor.  Very clever.  Clark, as the only contestent, you get to make the first choice.
Clark:
OF MORT-GAGE BOND-DAGE FOR ONE THOU-SAND PLEASE AL-LEX.
Alex:
OK.  The answer is:  Guilty, but never prosecuted.
Bing!
Yes.  Clark.  Go ahead.  And please remember to phrase your response in the form of a question.
Clark:
WHAT ARE INVESTMENT BANKS THAT CAUSED THE FINANCIAL CRISIS BY FUNDING AND UNDERWRITING FRAUDULENT HIGH RISK MORTGAGES, POOLING THEM INTO CRAPPY MORTGAGE BONDS, REPACKAGING THOSE MORTGAGE-BACKED SECURITIES INTO CRAPPIER BONDS CALLED CDOs, AND SELLING RHEAMS OF THE TOXIC WASTE THEY CREATED TO BANKS, PENSION FUNDS, AND OTHER INSTITUTIONAL INVESTORS ALL OVER THE WORLD, MARKETING THESE JUNK BONDS AS IF THEY WERE ACTUALLY HIGH QUALITY SECURITIES THAT CARRIED VIRTUALLY NO RISK, ALEX?  
Alex:
Can you be more specific?
Clark: 
NO PROBLEM AL-LEX.
WHO ARE OR WERE THE EXECUTIVE OFFICERS AT FORMER AND CURRENT WALL STREET INVESTMENT BANKS LIKE BEAR STEARNS, LEHMAN BROTHERS, MERRILL LYNCH, MORGAN STANLEY, and GOLDMAN SACHS; A SMALL AND ELITE GROUP WHICH - AMONG THEM -  MADE BILLIONS OF DOLLARS EXPLOITING THE GREATEST NATIONAL HOUSING BUBBLE IN AMERICAN HISTORY; A BUBBLE THAT THEY ALL KNEW, OR SHOULD HAVE KNOWN, WAS STRETCHED TO THE BREAKING POINT -- WITH AN UNSUSTAINABLE and FRAUDULENT BUSINESS MODEL THAT WAS BUILT AROUND SECURITIZATION, SALES, AND PROPRIETARY TRADING OF BOGUS MORTGAGE BONDS AND RELATED STRUCTURED INVESTMENT PRODUCTS, ALEX?  
Alex:
Oooo.  So very close.  Clark, can you be just a little bit more specific?
Clark:
CERTAINLY, AL-LEX.  
...AND WHO ENGAGED IN FRAUDULENT BUSINESS PRACTICES INCLUDING, BUT NOT NEARLY LIMITED TO, OUTRIGHT LIES, INSIDER TRADING AND MARKET MANIPULATION, BY, AMONG OTHER THINGS, BOOSTING SHORT-TERM REVENUES TO ILLUSORY LEVELS AND ARTIFICIALLY PUMPING UP STOCK PRICES IN THE NEAR TERM FOR THOSE COMPANIES THROUGH THE ROOF.
Alex:
Almost there-  Just a little more specificity...
Clark
...AND JEOPARDIZED AND, IN SOME CASES, DESTROYED, THE  CORPORATIONS THEY MANAGED ON BEHALF OF PUBLIC SHAREHOLDERS, CAUSING MANY OF THOSE SHAREHOLDERS TO SUFFER SUBSTANTIAL FINANCIAL LOSSES WHILE SENIOR MANAGEMENT BANKED ENORMOUS FORTUNES?
Alex:
Judges?  No?  Still not specific enough?   Clark, I'm afraid-
Clark:
...AND ULTIMATELTY CAUSED THE WHEELS OF CREDIT TO GRIND TO A HALT, PLUNGING THE UNITED STATES AND MUCH OF THE WORLD INTO THE MOST SEVERE FINANCIAL CRISIS SINCE THE GREAT DEPRESSION BY CLOGGING BALANCE SHEETS OF THE INVESTMENT BANKS THEY MANAGED, PLUS COUNTLESS OTHER BANKS, INVESTMENT FUNDS, COUNTLESS COMPANIES, AND GOVERNMENT ENTITITES AROUND THE WORLD  WITH ILLIQUID AND WORTHLESS JUNK SECURITIES BACKED BY SUBPRIME AND OTHER NONCONFORMING MORTGAGE LOANS MADE TO BORROWERS WHO COULD NOT AFFORD TO REPAY THEM?
Alex:
Are you feeling ok, Clark?  Is that smoke coming from your mother board?   Would you like to take a break so your IT team can check you out?  Or some water, perhaps?  Maybe an oil can?  
Clark:
NO THANK YOU, AL-LEX.
Alex:
Ok then.  I'm aftaid our judges are still indicating that they need you to be just a teeny tiny bit more specific...
 * * *
We could go on and on and on, but you probably get the idea.  
By Brett Sherman, Managing Attorney
The Sherman Law Firm
Editor and Publisher: Wall Street Law Blog