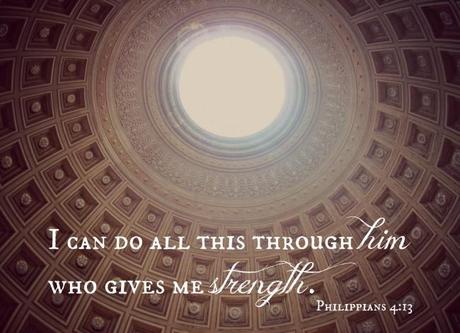 Given this week's catastrophic outcomes from Superstorm Sandy, it seems that all of us, especially those in New York and New Jersey, could use some strength.
In times like these it is not the human strength that pulls us through but rather the strength that comes from relying and believing on something and someone bigger than us and our worldly possessions.
While the Apostle Paul and I have a troubled relationship (mainly because he muddles my understanding of the Bible), I am utterly amazed by his strength.  Even in the despair of a lengthy imprisonment with no end in sight, he spent those dark days days singing the praises of God.   While most people, especially people of this generation, would have blamed God for their misfortune, Paul knew that his life was part of God's larger plan.  He knew that no matter what circumstance he faced God was and always would be with him.
Can you imagine the kind of strength it would take to continue to spread God's holy word knowing full well that sharing that good news is what got you placed in shackles in the first place? Paul doesn't even think twice about it.  As he explains in Philippians 4:11-13, he is able to continue on with such strength even in the darkest despair because God is with him every step of the way.
…I have learned to be content whatever the circumstances.  I know what it is to be in need, and I know what it is to have plenty.  I have learned the secret of being content in any and every situation, whether well fed or hungry, whether living in plenty or in want.  I can do all this through him who gives me strength.
As we all struggle to rebuild in the aftermath of one of history's most devastating storms, may we look to God not as the source of our problems but rather the solution to our despair.  May the strength of God be with you as it was with Paul.