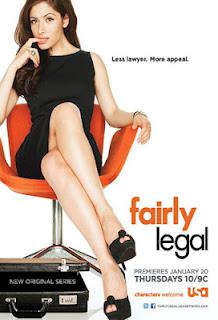 With every review I am going to post on this blog you'll come to discover how many TV shows I am currently watching and it will probably shock you but I can explain, TV shows are the air I breath, without them I suffocate. 
Today we have
Fairly Legal
, only one year old TV series from
USA Network
, launched successfully last year averaging 4.58 million viewers for its first ten episodes run, which for a cable network it's pretty damn good.
Fairly Legal
tells a story about
Kate Reed
(Sarah Shahi), a lawyer gone mediator after suddenly coming to the conclusion that in court there is always a winner and a loser, in mediation, on the other hand, only winners. As the series opens we see Kate working at the firm that her father started and who recently died, having to deal with the loss and her mother-in-law who's not a likable character, not at first at least. The series was received well, by viewers and by the critics.
Entertainment Weekly
lauded Shahi's performance saying she "
makes you believe that the woman is simultaneously an anxious wreck and a brilliant mediator
", and applauds some of the "
interesting chances
" the creators took.
Robert Bianco
from
USA Today
called Shahi's character, Kate, "
instantly likable
", and described the series as "
a well-constructed piece of popular entertainment from a dependable provider of the same, with an easy-to-like star and an easy-to-grasp premise
".
Second season premiered a week ago with a case in which a woman claims that her grandfather was harmed by his negligent employers. In other related matter, Reed & Reed is facing serious financial problems and Lauren as the main financial administrator must come up with a solution to keep the current clients and find a partner with a new flow in cash in order to redress firm's cash reserves. Also Kate meets a new colleague she has to work with on the case, a litigation lawyer who cares only about the money and not about the clients and something tell me these two will work perfectly together, if they won't feel the joy with we the viewers will most certainly feel the joy. By the end of the episode she meet her soon-to-be ex-husband Justin, candidate for District Attorney, to try to talk him into giving another shot to their marriage as they realized the mistakes that were made and now know what to work on, if only Justin hasn't told her that he cheated on her while they were separated.
After having her boat blown up she must have with Justin on both, personal and professional matters. This time Kate Reed has to mediate a case between a hospital and FBI. A patient who has been on a waiting list for a liver transplant is now in a fight for life and death, she fights for the liver that is her by any law only FBI considered that a prisoner is more worth alive than dead, he has information able to provide only by being alive. Kate has to find a way to fight FBI and get the patient what she needs, her liver.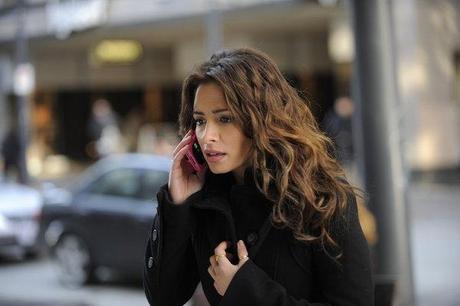 On the other side Lauren must decide on whether to drop out or not a client that has history with the firm and another client who may bring a cash inflow to reduce the ditch of the firm.
Kate asked Justin for help in her case and tries to sit down with FBI guys and give a piece of his mind on the fact that a good citizen may be an unfortunate collateral damage that is not worth being considered when it comes to a hired gun for the Japanese mob who may give up intel on New York Yakuza and help FBI build up a case against. And I guess the prisoner accepted testify for a certain price - a new liver. Also, National Security plays a big factor in this, many live against one life.
Let's watch this episode and see how Kate's brilliance solves the case, and mediates so everybody wins. You'll fall in love with Kate instantly and you'll love to hate Lauren.
Check back for a new promo for the next week episode and later in the day for the ratings
<a href="http://polldaddy.com/poll/6072774/">Rate this episode.</a>
Thanks for reading and hope to see you next time, with my next review.