Anyone who has grown the fussier Australian native plants knows how it goes. One week it's apparently healthy and green, defying the experts who said it'd never last. Then one morning you notice just a hint of brown here and there. Oh no! And few days later the browns have taken over, and then this morning, this...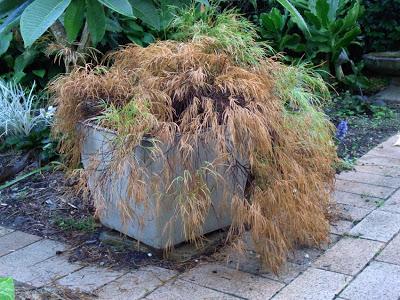 After four years of loyal service, our Acacia cognata 'Limelight'
has lost its glow, and is on the way out. This is one of Pammy's
plants and so I'm under strict instructions to go get another one.
She loves this plant, so do I, and it's a bit of a mystery why it
has curled up its toes now. Maybe the long, hot summer and the
humid hot start to autumn was too much for it?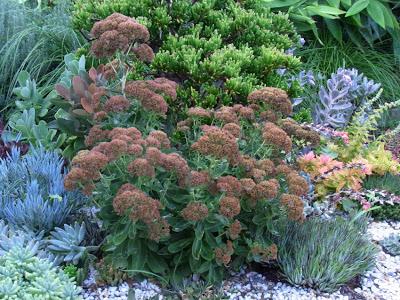 Across the pathway is another picture in brown tones, but this
is exactly how Sedum 'Autumn Joy' is meant to look. It started
out pale pink several weeks ago and slowly but surely it has
faded to these rather pretty browns. In a garden full of greens,
grey-blues, reds and more greens, this patch of brown pom poms
has been an eye-catching delight for me every morning when I
look out from the house to the garden. I never thought I'd like
a bit of brown the way I do now.
Call me a glutton for punishment, but I'm off to buy our next Acacia cognata 'Limelight' this morning. The first one was planted back in April 2009, so for this notoriously fickle native, a career of four years is pretty good going. As for the Sedumn 'Autumn Joy', its next stop is to die off in all its deciduous glory, withering down to the ground for a winter sleep, then awaking to do it all again next spring. 
In a garden, life always goes on, even though beloved plants come and go.