Fades & Nightmares: Footage Of Meek Mill And Safaree's Ex-Boyfriend Beatdown Gets Roasted Relentlessly
{$excerpt:n}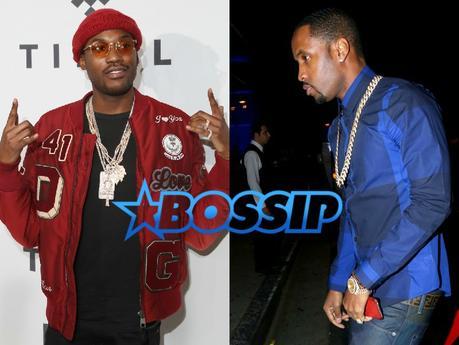 Image via Winston Burris/Derrick Salters/WENN
Twitter Clowns Meek Mill For Failing To Properly Beat Up Safaree
Late last night, news broke that Nicki Minaj's ex, Safaree Samuels, had been jumped in the streets of Los Angeles. Safaree took to social media to point the finger at his eskimo nemesis Meek Mill and the Dreamchasers for the attack.
Many wondered how Safaree (who was dressed in all white) was still so clean after being "jumped". Today, we have footage of the fade that provides an answer to that question…
Video of Safaree being jumped by Meek Mill's Crew pic.twitter.com/e0bu5NzWHj— Tizio Magazine (@TheTizio) June 24, 2017
//platform.twitter.com/widgets.js
Doesn't look like many of Meek's alleged goons landed any punches. You can see Safaree scurry away at the top of the screen.
As with all things surrounding Meek Mill, Twitter was more than willing to add as many "L's" to his name as they possibly could.
Flip it over to peep the hilarious reactions.
Safaree after Meek people tried to jump him pic.twitter.com/xMyTNnIa7h

— 21 Brandon (@GhostFaceSigma) June 24, 2017
Safaree getting jumped by Meek Mill.. How you get jumped wearing all white and come out clean? Oh, nvm… pic.twitter.com/16hCJniI90

— (@3lone) June 24, 2017
Meek's goons fightin Safaree like pic.twitter.com/vXhplGruVm

— Run the Fools 🤳 (@Natural_OneDurr) June 24, 2017
Here is exclusive footage of Safari getting jumped by Meek Mill's crew pic.twitter.com/ynmVqPKVkG

— Tariq Nasheed (@tariqnasheed) June 24, 2017
Safaree after he gets jumped by meek crew but realizes his outfit is still white pic.twitter.com/9rDEqekMR0

— ☠Jonny Brazil™☠ (@KingJon100) June 24, 2017
Meek gang took turns using a Lint Brush on Safaree, he clothes cleaner after then before

— PlayboiPapi (@Svage2times) June 24, 2017
XXXTEMPERPUTIC: Beat up @ my show, toss into the barricade, dildo thrown on stage. Cant NOBODY take more L's than me

MEEK: Hold my beer…

— Wild Wild Seth (@SpikeReeds) June 24, 2017
Meek mill crew jump safaree pic.twitter.com/uOm2HTp4NA

— Master Miller (@SlickJizzle) June 24, 2017
2000 Beans would've slapped Meek Mills waves off.

— Problematic…. (@SeanTheTerrible) June 24, 2017
Safaree wearing all white, got jumped, and still no dirt on his clothes yo. Meek Mill really can't get anything done right, what a dweeb

— ThePenseur (@ThePenseur) June 24, 2017
How the hell did Meek's niggas jump Safaree and his clothes still pristine? Did they even get any hits in? What the hell? pic.twitter.com/QCKCazS60M

— bri (@bigshitxtalker) June 24, 2017
How do you jump somebody… but they come out unscathed? White outfit still crisp and fresh. Why is Meek a flop at everything in life? pic.twitter.com/aQ7YZQPFKy

— ᴛʀᴀᴠɪs sᴄᴏᴏᴛᴇʀ. (@drizzyxcole) June 24, 2017
Source: Fades & Nightmares: Footage Of Meek Mill And Safaree's Ex-Boyfriend Beatdown Gets Roasted Relentlessly
11 total views, 11 views today