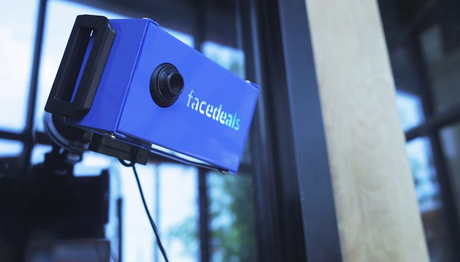 Facebook check-ins are a powerful mechanism for businesses to deliver discounts to loyal customers, yet few businesses—and fewer customers—have realized it. A search for businesses with active deals in our area turned up a measly six offers. The odds we'll ever be at one of those six spots are low (a strip club and photography studio among them), and the incentives for a check-in are not nearly enticing enough for us to take the time. So Redpepper set out to evolve the check-in and sweeten the deal, making both irresistible.
Facial recognition cameras are installed at local businesses. These cameras recognize your face when you pass by, then check you in at the location. Simultaneously, your smartphone notifies you of a customized deal based on your Like history.
The check-in app must be authorized via your Facebook account. With your help, the app verifies your most recent photo tags, using those to map the physical appearance of your face. Our custom-developed cameras then simply use this existing data to identify you in the real world. Personalized deals can now be delivered to your smartphone from all participating locations—all you have to do is show your face.
The cameras are standalone devices developed around open source technologies including Raspberry Pi, Arduino, OpenCV and the Facebook Graph API. They can be configured remotely and only require a standard 110 volt wall outlet and a wifi connection.
For businesses, there is no easier way to deliver customized deals. Users receive personalized offers simply by coming through the door, which removes the guesswork typically performed by both parties. Businesses will no longer wonder which offers will stick. Patrons will no longer plan outings with a deal-a-day mindset, but can simply frequent their favorite spots and count on being rewarded.