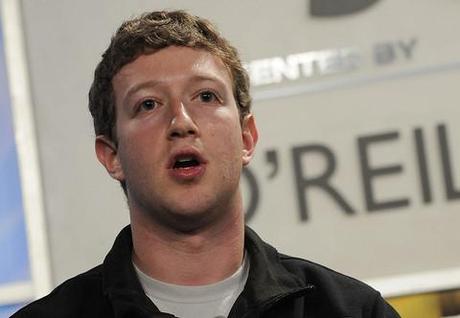 Facebook CEO Mark Zuckerberg. Photo credit: JC Lasica, http://www.flickr.com/photos/jdlasica/3010221890/
The background
Facebook shares dropped to an all-time low of $28.65, just 11 days after the company's Wall Street debut high of $38 on 18 May 2012. The latest price tumble marks yet another headline-grabbing low in Facebook's stock market floatation.
As Katherine Rushton pointed out in The Telegraph, the social networking giant has lost a fifth of its value since going public, and is widely considered to have had the most disastrous floatation of any major company for a decade. And things are set to get worse: "Many brokers are expected to cut their losses now that Facebook shares have passed the important psychological thresholds of $30 a share and a 20pc drop in value," Rushton said.
So what has gone wrong?
Read more about Facebook's stock market float at The Periscope Post.
Can Mark Zuckerberg handle being Facebook CEO?
The Facebook IPO was Mark Zuckerberg's first big test as CEO, wrote Dan Lyons at The Daily Beast, and he failed it. "Worse, in the wake of this overhyped and poorly managed stock deal, the guy in charge was nowhere to be found. He wouldn't do interviews, or even make a statement," Lyons said – and this raises the question of whether 28-year-old Zuckerberg is really ready to be CEO of a publically traded company. "Zuckerberg will have to learn on the job. He's now running a company valued at $90 billion, more than Ford and General Motors combined. That's like taking flying lessons when you're already in the cockpit of a 747 with hundreds of passengers aboard," Lyons pointed out.
Facebook has a mobile problem
"Careful observers of the run-up to Facebook's IPO, including myself and my CNET colleagues, noted early that Facebook has a mobile problem," wrote Molly Wood at CNET. The company is unable to make money from mobile traffic, and the rise in mobile usage is cutting into existing revenues. But Facebook is not alone: "Every site on the Web has a mobile problem," Wood said. "Simply put: the world is going mobile, it's hard to make money on mobile, and no one is feeling that more painfully than Facebook."
Facebook failing to win over advertisers
Rebecca Greenfield examined Facebook's impact on the wider economy at The Atlantic Wire, and concluded that the company has made scant contribution. "Facebook money, unless its a billion dollar buy of another tech company, doesn't go far," said Greenfield. "But Facebook's a public company now, so we should hope it stimulates some sort of growth somewhere, right?" A big part of the problem is that Facebook is not doing well with advertisers: "Facebook hasn't proven it can or will effectively sell its users, which drives all that negativity happening on the market."