lev%20radin
%20/%20
Shutterstock.com
">
lev%20radin
%20/%20
Shutterstock.com
">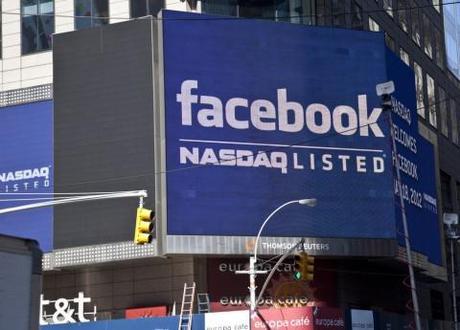 Facebook shares are down. Photocredit: Lev Radin at Shutterstock.
The background
Shares in megasaurus social network Facebook have slumped to £12.64 a share, the lowest price since the site floated on the stock market. It comes as investors are allowed to sell stock perviously "locked up"; this means 271 million shares will be made available. Another 243 million shares will become available in October, and 1.2 billion in November; Mark Zuckerberg, the site's founder, is obliged to hold on to his shares until November.
The site has been trying to find ways to monetise its users – and one way may be by allowing companies to advertise directly to people on their news feeds. The BBC reported that other technology companies have seen share prices fall after the expiration of a lock-up period: Linkedin shares dropped 7 per cent; Groupon fell 10 per cent. The Financial Times reported that Facebook is the worst performing company on both the S&P 500 and Nasdaq 100. The company was floated at $100 billion when listed; it's now worth a mere $43 billion.
"It is early days still after Facebook floated – those expecting a quick windfall have been disappointed but Facebook are in for the long haul as brands should be," said Paul Armstrong of media agency Mindshare UK, quoted on Sky News.
Are people convinced by Facebook?
Steve Place, an analyst at investingwithoptions.com, said, quoted on Sky News, that investors might hold on to their shares, hoping that they will soon rebound. Yet most believe that Facebook is encountering difficulties in coming up with ways to successfully make money out of its users. "Facebook itself has had troubles in providing … assurances that it can monetise itself and generate strong earnings," said JJ Kinahan, chief derivatives strategist at TD Ameritrade. "Not a lot of people are convinced."
There's more trouble to come
You ain't seen nothing yet, said Brian Wieser, an analyst at Pivotal Research Group, quoted on The Financial Times. When the shares become available in November: "How they manage through that is the big deal."
And yet – Facebook is profitable
Rebecca Greenfield on The Atlantic Wire said that not everyone thinks it's a bad thing for Facebook. It's already lost a lot of its value. The price that shares are at is currently the same that some people thought they should be when it first went public. And it looks like shareholders have faith in the long-term value of the shares, too – it does have $10 billion in liquid assets, after all. She quoted Somini Sengupta of the New York Times, who said: "Facebook is profitable, it keeps its nearly one billion users glued to their screens longer than any other Internet site, and it is aggressively experimenting with new ways to drum up advertising."
 What it will mean for brands – and users
Steve Richards on The Drum looked at what it meant for brands – do companies want to advertise to users on their newsfeeds? It "might upset some users, but it's not really surprising." What's likely to happen is that current Facebook strategies will become defunct; but if brands with no followers can target people directly without people "liking" them, then it's what people call a game changer. But that doesn't mean it's a "holy grail" – the ads will still need "considerable targeting." And of course, brands won't want "to throw adverts at users" – they still need to consider that they must be "relevant and compelling." Richards suggested that there will be a "backlash." Newsfeeds are seen as "a private space." But whatever happens, there will be "more moves to make brands increasingly visible in the coming months."