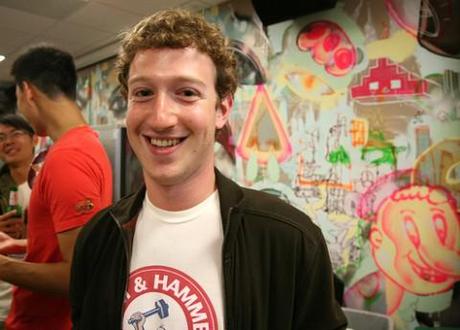 Facebook founder Mark Zuckerberg. Photo Credit: Scott Beale
Watch out Google: Facebook is on the march. The social networking giant –whose profitability was being questioned only two years ago - netted $1.6 billion in revenue in the first half of 2011, according to a memo linked toReuters.The company is on track to post $1 billion net profit for the year, double what it made in 2010.

Facebook makes most of its money from showing ads to its 750 million users, and accounted for nearly a third of all display advertising impressions in the US in June – more than Yahoo!, Microsoft, AOL and Google combined. It looks like the battle with Google – which launched rival social network Google+ earlier this year – is heating up.

You know what's cool? $80 billion. Reuters also reported that investors have upgraded Facebook's valuation to $80 billion based on the latest leaked results. Facebook is a private company and doesn't officially disclose its financials, but is widely expected to go public in 2012. And in news that is sure to send a chill down the spine of rival Google, some analysts think even that handsome valuation may be too low. John R. Talbott's analysis at The Huffington Post may have been somewhat fanciful, but he was right to emphasise potential future revenue streams, arguing that the current valuations "don't even begin to touch the potential valuation that Facebook might attain in the very near future."

Woah there, Facebook. And in fact, not everyone is convinced that Facebook's latest numbers are all that. Matt Rosoff at Business Insider broke ranks with the excited reaction to the leaked results to claim that that investors counting on a $80 billion + valuation "could be disappointed." Rosoff pointed out that the 2011 midway results, while "pretty impressive," actually fall short of Facebook's own prediction of $4 billion revenue for the year. Oh dear. Rosoff accurately added that we don't really know that much yet about how Facebook makes its money, and that hopefully "the company's plans for turning its spectacular user growth into equally spectacular revenue growth will be much clearer" by the time of its predicted 2012 IPO. Rosoff's colleague Nicholas Carlson had reported a few weeks ago that at least one maverick analyst believes that "Facebook usage has peaked in the near term" and that the company's growth has "suddenly hit a brick wall because of Google+" and "Facebook fatigue." These claims are of course impossible to prove or disprove, but the entire tech world will certainly be waiting with bated breath for another leaked Facebook results memo in six months' time.