0 Flares
0 Flares
×


Lets look at the different types of Facebook posting options & features you can utilize to engage your fans:
Posts: Status Update, Photo, Video, Offer, Event +
Scheduling Posts
Location Tagging
Feature options: Pin to Top, Highlights
Posts

Status Update
This is the most basic type of post. It contains only text and links.


Photo/Video
This type of post allows for visual content: You can add a photo, photo album or video to a post, which can also include text and links.


Offer, Event +
This includes 4 different types of posts:
Offer: This allows you to post a coupon for your business that users can claim directly from the post itself
Event: This allows you to create and post about an event, which is a great way to spread the word about any promotional events you have coming up
Milestone: This is a special type of post signifying a major event in your company's history, such as the opening of a flagship location or the sale to your 1,000,000th customer
Question: This is a very engaging type of post that allows you to ask a multiple choice to your Facebook fans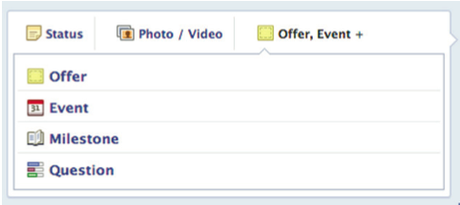 ---
Scheduling Options
Facebook now allows you to schedule posts in the future and even in the past!
It's super-simple and allows you to stack up a number of posts in advance, although not as efficiently as doing so with a 3rd party service like Hootsuite. Simply click the clock icon in the bottom of the Status update box and you will be able to select the year, month, date and time of your post. If you set the date in the past there is an option to "Hide Post from News Feed", meaning it will not appear in your fans' News Feeds, it will only appear on your Facebook Page's Timeline: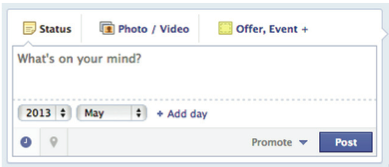 ---
Location Tagging
Clicking the "Pin" icon will allow you to list the place that the activity this post refers to took place: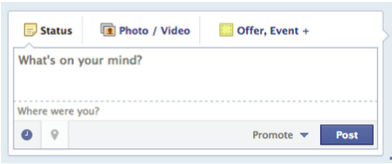 ---
Feature Options
Once you've published a post, there are several options for making it more visible on your Facebook Page:

Pin to Top
"Pinning" an item to the "Top" of your Facebook Page places the post at the top of your Wall for a period of 7 days. This makes it immediately visible to every visitor, so it's a way to boost views for new promotions and product releases. Check out a live example below, note the orange banner in the top-right corner of the post signifying that it is "pinned":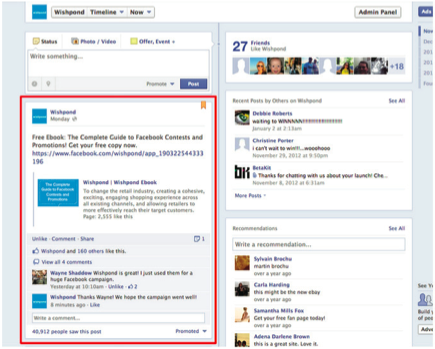 You can Pin a post by clicking on the Pencil icon in the top right corner of one and selecting "Pin to Top" in the dropdown menu: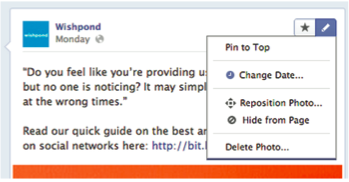 Highlight
"Highlighting" a post makes it appear full-width on your Facebook Page (normal Facebook posts only appear half-width). This is great when making posts that include large images and videos to give users a full view: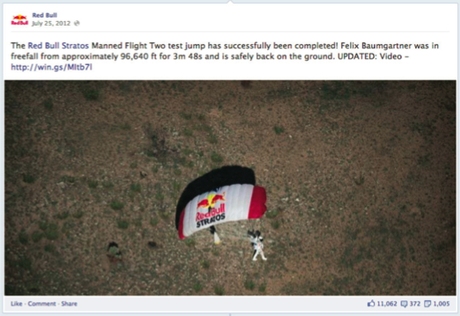 You can Highlight a post by clicking the "Highlight" icon in the top-right corner of it: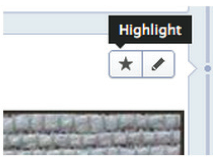 Optimize the efficiency of your posts and see great results! Try the different kinds of posts and have fun on your page.
Check out "Create a Facebook Content Marketing Schedule"