Facebook Page Posts – Are They Still Being Seen?
Whether you are using Facebook as a business page or for your own personal use have you noticed that not everyone is seeing your Facebook page posts these days? What is the reason behind this Facebook algorithm change? It is not only exclusive to Facebook pages but to personal Facebook users too. Many users are not seeing their friends or family's posts like they once used to. (I also posted on this back in 2013, it's not the first Facebook algorithm change).
Facebook wants its users now to be ENGAGED. Not engaged to be married but engaged in the content with other Facebook users. If you are not engaging on Facebook with other users you will not see all their posts as you once had. What about likes? Likes are not scored as high as commenting in the Facebook feed.
What Can You Do Today To Help Your Facebook Page Posts Be Seen More?
Facebook Newsfeed Preferences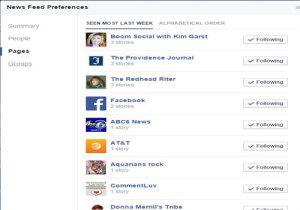 Have you checked your latest Newsfeed Preferences?  You can follow
or
stop following pages you have followed since you began to use Facebook.
You can also change your preferences with people and with your groups. This is a great way to get rid of old groups and old friends you don't really care to see posts from. You may have agreed to be friends years ago and then realized the stuff they post you really don't care about. You can still remain friends though so don't fret!
If you are not seeing things in your newsfeed that you would like to – be sure to follow them. Some Facebook pages changed their names over time too. Just another hint to check that out as you know how people change names today.
Facebook Ads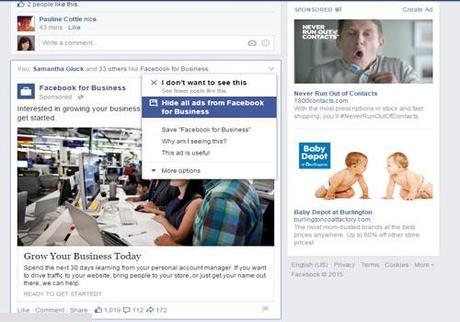 You can also control which ads you now see in your Facebook feeds. This feature is really nice.
Do notice the 5 choices you have when you click on the down arrow near the ads. For the really annoying ads in  my Facebook feed I choose the first one – I don't want to see this! For others I choose the 2nd as in this one highlighted in the sample to the right.
There are more options too for you like taking a survey so Facebook knows what type of ads you would or would not like to see in the future. Great feature, isn't it?
Suspicious Facebook Posts
Did you know that you can report any suspicious Facebook posts that look like a scam? If you believe a post is a hoax you can easily report it to Facebook from the drop-down menu as the other posts I've shown here illustrate.
Are People Dropping Their Facebook Pages?
I read recently that Adrienne Smith decided to drop her Facebook page and concentrate using her personal Facebook account instead. Corina from NotNowYourMom'sBusy blog and ThisBusyLife blog are also considering dropping their Facebook Pages.  Have you thought about doing that too?
What's a Blogger to Do About the Facebook Algorithm Change?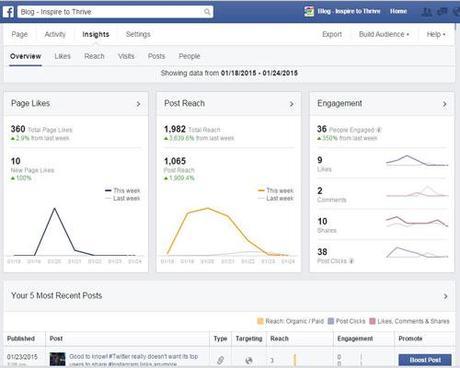 I like what the
Huffington Post
had to say about this: 
Bloggers: Stop, Breathe, and Don't Overreact to
Facebook's Changes.
Some of the Facebook Page Posts that bloggers repeatedly post are pushing out their own agendas, being overly promotional. That's what Facebook wants to put a stop to. SO if you are doing that kind of posting on Facebook
be aware
.
Facebook Promoted Posts and Paid Ads
You must pay for those type of posts. I think we all need to relax with our Facebook Page insights and continue to post helpful and meaningful posts, mixed with fun, quotes and more. If you want to increase your Facebook page reach you can pay for promoted posts or likes for as little as $5 per day. It will make a difference for you for that day. You can check out my insights here above this paragraph. It is interesting to see how the Facebook page reach increased over 3,000%! And the Engagement over 300%! Not bad for a few dollars. If you really don't want to spend any money then try the engagement with other Facebook pages. Just be sure to use your Facebook page to engage with them, not your personal Facebook account. I also recommend downloading the Pages Manager app for your Facebook page – great to use on the run on your mobile!
Use Your Facebook Page Insights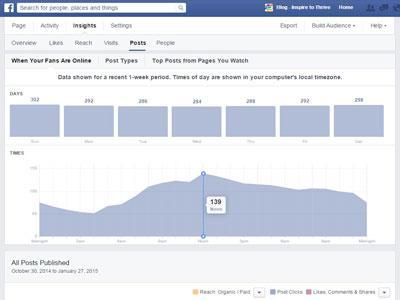 Please use your Facebook Insights for more guidance too! Take a look on when my fans are online.
Sunday at noon seems to be the jackpot!
(Does that mean my fans are not religious?)
You can check more into insights for demographics, like which countries your fans are from, which gender and age and much more! Do pay attention to them to taylor your posts and schedule them to get the best results out of your Facebook page today!
New – Facebook Debuts Conversion Lift Measurement
This came about as I was finishing up this post. It was reported by Marketing Land. This will allow Facebook's larger advertisers the ability to track online sales driven by Facebook ads. Advertisers must have a Facebook representative to have this new capability. So it's really for the bigger players right now.
What will you do in the coming days ahead about your blog or business Facebook's page?
Will you continue to keep it or get rid of it all together? 

Lisa
Lisa loves helping others to thrive online through Social Media, Blogging and SEO. What good is knowledge if you cannot share it with others?
She has 20+ years experience in marketing/advertising with 4 years experience blogging, social media and SEO. Get her new eBook Tweeting Like It's 2nd Nature Today!

Latest posts by Lisa
(see all)
Facebook Page Posts– Who is Seeing Your Posts Now?

- January 29, 2015

8 Things To Consider When Changing Your Name Online

- January 5, 2015

15 Bloggers to Make You Think in 2015 and Beyond

- December 18, 2014
Powered by Starbox