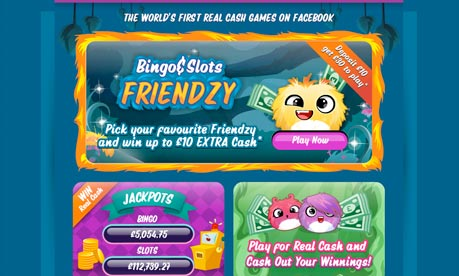 Bingo Friendzy, the Facebook bingo app.
The background
Gamblers beware: Social networking site Facebook is launching Bingo Friendzy in the UK to users over the age of 18, who will be able to play online bingo and, later, slot machine games, for real cash prizes. It's being launched in partnership with Gamesys, which also runs some jackpot sites like Sun Bingo and Caesars Casino. Zynga, Facebook's main gaming partner, is hoping to bring real-money gambling into its games in 2013.
Users will have to enter personal details, including date of birth, and then make a deposit of between £10 and £500. The UK is well regulated when it comes to gambling; the US largely prohibits it. Commentators are saying that it's obvious that the move is expected to raise revenues; but is the site being amoral in drawing children into gambling?
Why is Facebook doing this?
Julien Codorniou, Facebook's head of gaming for Europe, Middle East and Africa, said that gambling is "very popular and well regulated in the UK," and that since it was already a "social experience" for millions of people, it "makes sense." Clive Hawkswood, chief executive of the Remote Gambling association, agreed, and said that since bingo was at the "softer end of the gambling spectrum," it was "an obvious match for Facebook." Many bingo sites have chat alongside. It's "one way of bringing in revenues." Both were quoted on The Financial Times.
Don't worry, you can get self-help books on the site too
Ben Johnson on Slate said that if you were worried about Farmville, you should be even more worried; he added that Facebook representives wouldn't say how much the company would get as a cut from the revenues. Gamesy, Facebook's development partner, promises that users will be able to access "self-help tools regarding gambling addiction as well as a way to set spending limits. Now you can feed your addiction and get treated for it all in Mark Zuckerberg's wonderful online environment."
But what about children?
The Guardian reported that the move was "likely to provoke some concern from parents whose children spend vast amounts of time on the site." The site, indeed, reported The Daily Mail, seems designed for children – the characters resembled child-friendly creatures such as the Moshi Monsters. Though the site insists that children won't be able to get into the bingo app, it's well known that children are able to bypass such controls.
Facebook is desperate
The V3 Frontline blog said: "I guess if you're going to gamble, you're going to gamble. But by offering an online gambling option Facebook is just screaming" desperation.
"As stock in the company drops faster than my funds at a roulette table, I guess Facebook has decided it will sell anything to turn a buck."