All business owners "get" that they need a Facebook page. What many do not understand is the SEO value. You may have heard about that but aren't too sure about how that all works. I want to be sure that as a business owner you understand what you are pass on by not have a Facebook business page. It takes time and effort to build a Facebook audience but the pay off is shocking! Facebook business page SEO value goes way deeper than just creating it.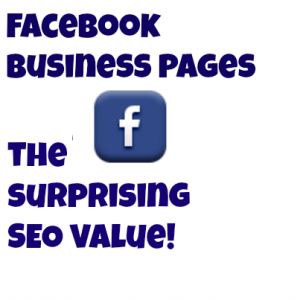 How a FaceBook Business Works for your Business
Faceb​ook has a simple step by step guide to get you started If you haven't yet.
Before you go to build your page you need to decide what url you want for you page. Be SEO savvy and give you page the same link as your business website or the name of your local business.  I have a tutorial on getting SEO value from the begin
How to optimize your Facebook Fan page For SEO
 
If you have heard of social signals that have become that all important search engine ranking then listen carefully. Search will read loud and clear the signals that it gets from your business page.  In case you missed it I'll show you a snap shot of the top social signal votes from that awesome report from SearchMetrics.com .

Facebook Business Page SEO from engagement
Do you see what I see? Facebook engagement can give you a huge SEO boost to your website. Yes, last I week I was jumping up and down about using Google Plus for your business and ITS SEO value. I'm still excited about it too! But will you just take a look at Facebook and how much you can gain from it? If that doesn't make you jump over and get busy on Facebook then I'll assume you aren't interested in getting your website to the top of search!
Okay if you don't have a clue how to engage on Facebook I have a few posts that can help you with that. 
How to use Facebook News feeds to Engage your Audience 
Five Tips to engage your Facebook Fans like a Pro
How to Conquer Facebook
How to Get Your Facebook Fans to help you Market
The SEO value comes from the engagement. So I want you to understand the best way to engage and pick up fans. Get the engagement and you will reap the benefit from the social signals received from your business page.
 
 I won't lie to you. The first reason I got a fan page was for the SEO value in just owning one. That value has been around for quite a while. I did nothing to engage or build an audience on them. Then, I saw the value of engaging with people on Facebook that were interested in my business. I have made sales but even better than that, I have gain connects and friendships.
The facts are right there in black and white. Social signals are a driving force for your website's SEO. Facebook has a major share of those signals to be garnish! There's some work that comes with it. If you go about it the right way though I think you'll enjoy building the relationships. As a social media strategist I am able to do two of my favorite things: SEO research and engaging with people. I imagine there are a lot of people that would like to make talking to people on Facebook their job. I did make it mine. If you are interesting in learning how to use a Facebook business page for SEO you can contact me about management or consulting. 

 Did I convince you how much you have to gain with a Facebook business page? Share your thoughts with me or ask a question in a comment below. Can't wait to hear what you think!