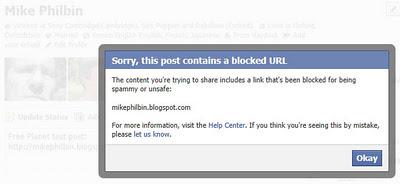 the FREE PLANET message is not only making its way into the hearts and minds of more and more of planet Earth's seven billion sovereign individuals, it's also getting flak.
You know what they say, "When you're getting flak, you're over the target," well, I specifically started a page on Facebook with the sole intention of letting T.H.E.Y. know that I know that T.H.E.Y. know that I know that....  you get the message.
Well, and this is not the first time it's happened, I received another notification from a disgruntled Facebook user that they are unable to 'share the Free Planet message' with their friends and colleagues via Facebook because the mikephilbin.blogspot.com url is on a spammy/unsafe list. As you can tell, from the image above, I did a test to see if I could post the Free Planet url on Facebook.
Free Planet ISN'T SPAMMY i.e. it's not trying to SELL anything for PROFIT. I even insist that readers donate whatever they can via the PayPal button so that I can keep Free Planet advert free and not subvert my own announced Creativity, Passion and Kinship with all seven billion of you.
Free Planet ISN'T UNSAFE i.e. there's nothin on there that would endanger the status quo and make the Criminal Elite who rob and rape you on a daily basis be ashamed of their crimes ... oh, maybe that's it. Maybe that's why Facebook stops people sourcing Free Planet like that.
Perish the thought that THE FREE PLANET SIMULATION ever makes it to the proof-of-concept stage. Perish the though that people actually start seeing and hoping and praying and believing that Free Planet is THE ONLY WAY to run this delicate homeworld. Perish the thought that people start thinking beyond what they can get from Earth and start to think of all the wonderful ways they can GIVE BACK TO EARTH.
Dear Corporate Webspace, you can't just BLOCK those users whose ideas you don't agree with; you can't just scream and shout over those living voices who're promoting freedom of expression on a re-wilded planet: you can't just silence all contrary voices. This is the whole point of a connected world, that we feel together, that we sort out problems together, as a global race - not a pyramid hierarchy with a profit/loss account open on its fat lap.
You can't just dispel the real possibility that CUSTODIANISM (the third age of man) can help make this world a better place for our children's children.