After taking a super close-up picture of my face, I had several comments on my skin.  I thought this brought a great opportunity to discuss my beauty regimen, as it is unique.  This will be a four part series where I discuss various parts of my skincare routine.  Starting with the basics of cleansing and moisturizing, foundation, make up (my favorite!), and finally wrapping it up with body care.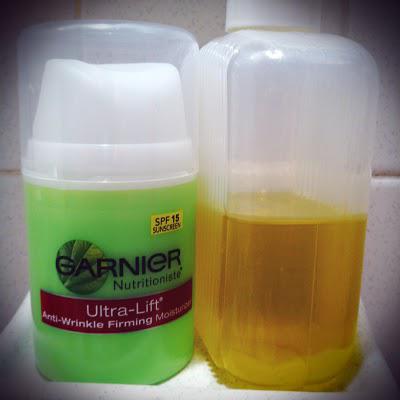 What is the oil cleansing method?  It is exactly that, washing your face with oil.  Trust me, I know what you are thinking, "Ew."  Am I right?  Hear me out.  The basis of the Oil Cleansing Method (OCM) is that regular soaps and cleansers strip away dirt and make up, of course, but can also strip the natural oils your skin produces.  This can lead to an overproduction of oil by your skin, causing your skin to be oilier and shiny, as well as causing dry spots or even break outs.  Basically, this is the same idea as using sulfate free shampoo, but this is for your skin.
Up until my mid twenties, I have battled with my skin.  I break out when I am stressed or when I'm not taking care of my skin.  I also would have to be very careful about changing cleansers because my skin is pretty sensitive, or so I thought.  I have very fair skin with large visible pores on my nose, cheeks and chin, with a tendency to break out on my cheeks and jawline.  Dry patches on the sides of my mouth flare up terribly in the winter and often flake and crack.  As a teen, I was on all sorts of medication to level my skin out and continued to struggle with my skin until I officially was well into adulthood.  For years, I used plain Dove bar soap and some sort of heavy moisturizer with a sunscreen in it, because I didn't want to do anything that could make my skin angry.  That was up until about six months ago when I started using OCM.I would love to go into the process more, but there are amazing resources for OCM.  I will however be happy to answer any questions you might have.
Ideally, you would not have to use moisturizers with this method, however, I still do to protect my skin from the sun.  I'm not sure if you have noticed this but I have fair skin and unlike when I was a teenager, I want to keep it that way (unless it is a spray tan, which are a guilty pleasure of mine).  I use Garnier Nurtritioniste Ultra-Lift Anti-Wrinkle Firming Moisturizer with an SPF 15 sunscreen.  I just started using this stuff, and I really love it.  My skin feels firmer and it moisturizes all of my trouble spots. 
I will have to give a little word of advice.  If you have a skin care method that works fantastic for you, then use it and stick to it.  If you are disatisfied with your skin and want to research some alternative options to cleansers, give OCM a try.  So, ideally, I use OCM at night before I go to bed.  Sleep.  Shower.  Then either before or after I take my gummy vitamins, I moisturize my face.
What do you use?  Anything you have been using for ages?  Something new you have tried?  Questions about OCM?