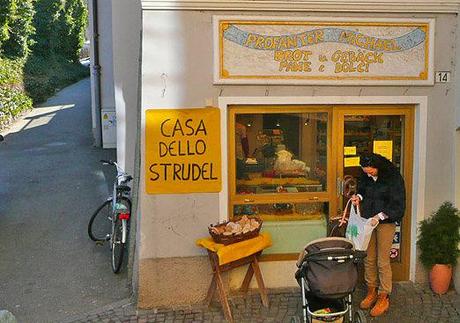 She's checking her bag, fearful I've stolen her pastries.
Feel like taking a walk?
During the week, I really do have to work which is so... annoying. I mean, I know that's what I committed to and everything but I can't believe they really thought I'd do that.
I try to sneak out, mid-mornings, for a breath of fresh air...
Directly outside my apartment gate is a busy street where the locals try to run you down in their teeny, tiny cars. I'm really not worried about this any more. Because I found
the strudel shop
. A few more daily visits to this place, and I'll be bigger than their cars!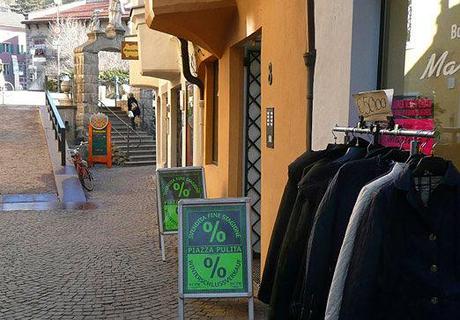 The 0% Sale
Farther down the street is this cute clothing store. I've got my eye on a jacket, there. But, check out their sign. It just says percent % ~ with no numbers attached. Admittedly, I'm a dumb tourist. But, not that dumb. Anxiously waiting to see a big 5-0 placed in front of that percent.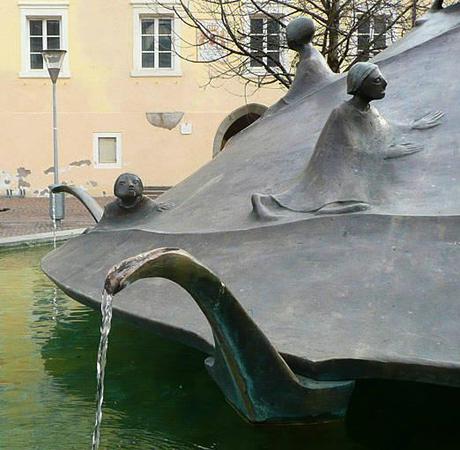 Next up is the spooky fountain. Gives me the heebie jeebies ~ what with those ghost-like sculpture people rising from the metal.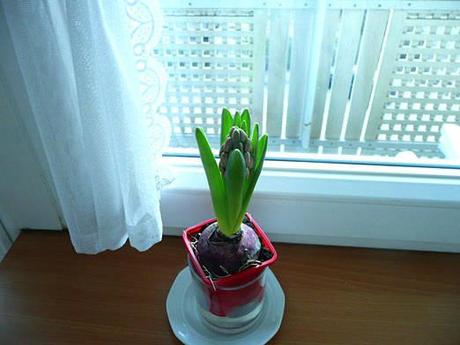 Newly decorated apartment!
Right past the fountain is my final destination ~ the grocery store. (I'm making it a habit to go through an entire loaf of their home-baked bread every afternoon.) This is where I fell in love with the cute baby Hyacinths ~ which naturally found a home on my sunny window sill.
And, now I must return to work. But, rest assured I'll find a lame excuse to sneak you back to that Strudel Shop
real soon.
PS!
Stay warm, my friends.
I heard it got down to zero (!?) in Arizona this week. What gives with this crazy weather??
* Facciamo una passeggiata = Let's take a walk. This is my bloggin' diary from Bressanone, Italy, where I'm living, and working, for the month of February.