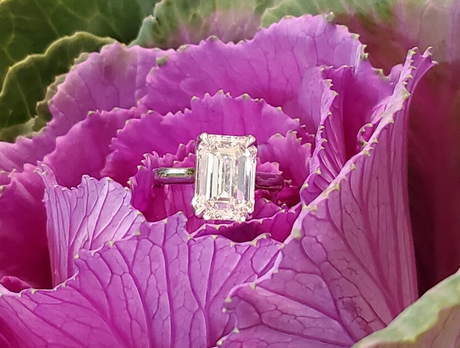 The Jewel Of The Week is always challenging to select because there are so many exquisite jewels that get posted in the Show Me The Bling! forum each week. When it came to making the final selection I was taken back by Aac2013 posted pictures of her updated jewel collection.
This post starts off on a high with a brand new goal shattering 5ct Emerald Cut diamond ring. Wow, this is unreal, it is absolutely stunning! Aac2013 said "My big goal was to get a 5 carater one day. To hold me over I started a 7 stone asscher project that ended up being two 7 stone asscher rings, one white and one fancy intense yellow. I thought I was done for the year but, I sold my OEC and a phenomenal opportunity opened up on my dream ring."
THE STATISTICS
Emerald Cut:
Carat Weight: 5.01ct
Color Grade: K
Clarity: VS2
1.43 ratio emerald cut with 65% table and 65.5% depth.
The setting is a petal basket which is a modern yet soft twist on a classic.
That would be exciting enough, but then she added more of her amazing collection and we were smitten! This collection is #goals, and I spent more time than I would like to admit staring at it! 😊
Kudos on your gorgeous pieces, and that stunning new ring! Thank You for giving us a glimpse of your jewels.
Let us know which is your favorite piece in the Comments section below.
Written by Kayti Kawachi