I always admire a celebrity who surprises me when it comes to their fashion choices. Not in the same out-of-this-world way as Lady Gaga or Nicki Minaj, but celebrities who always pull something subtle yet show-stopping out of their bag of tricks. If a celebrity can manage to look like a different person entirely with a unique style every time they hit the red carpet I think they deserve credit in the fashion world. And one rising starlet who is doing just that is Emma Stone.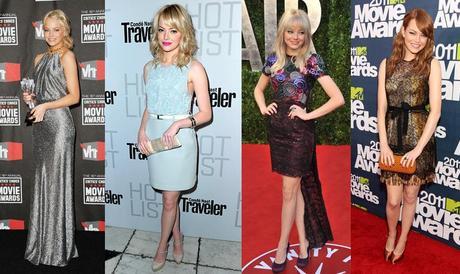 Emma's stunning red carpet style! From left to right: At the Critic's Choice Awards in Balenciaga by Nicolas Ghesquiere, looking absolutely angelic in a light blue number by Preen, having a high-fashion moment at the Vanity Fair Oscar party in Chanel Haute Couture, and back to her red tresses in a Bottega Veneta dress!
The young actress who has been landing role after role in everything from romantic comedies to the highly anticipated film adaptation of the book The Help (coming out next month!), has shown her true colors as a red head and a blonde- her natural hair color, believe it or not! Whoever her stylist is deserves major recognition for the work she has been doing with Emma in 2011 dressing her perfectly for every event- from working with her current hair color, finding just the right shoes, how she styles her hair down to her clutch and lip color. In other words she rarely disappoints.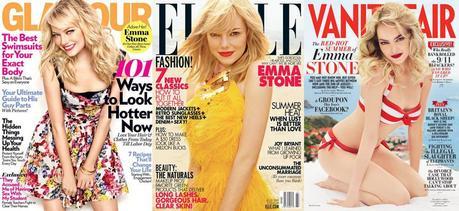 This summer alone, Emma Stone has been featured on the covers of Glamour Magazine (May issue), Elle (July issue), and Vanity Fair's August issue promoting her new movies Friends with Benefits and Crazy, Stupid Love. Apart from moments in the editorial spotlight, all in one week, Ms. Stone managed to pull off two very different and very chic looks for the premieres of her two newest flicks. Back to her signature red 'do that she had when she started gaining her celebrity, Emma rocked the red hair on the red carpet and looked so stunning we just HAD to get some Fab Finds together for you to get her fashion-forward style!
First came the Friends with Benefits premiere where Emma stole the show in a unique and bright Giambattista Valli pink and red color block dress that she paired with nude Christian Louboutins. Most of us would shy away from that color combination but we think Emma makes it look hot! If you do dare to pull off a color combo like this, follow Emma's lead and style it simple. Get a metallic gold cocktail ring like our Fluttery Gold and Pink Cocktail Ring and that's all you need!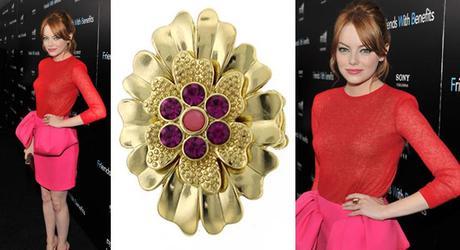 Later in the week, Stone attended the premiere of a movie she has a much larger role in- Crazy, Stupid Love. For this red carpet, the leading lady went a bit more glamorous in a structured black lace dress from Tom Ford's fall collection. Paired with a crimson lip and her hair in a loose, vintage inspired wave, we think Emma looked like a dream from head to toe! Her hair styling really does wonders for that dress and shows off her vintage-esque earrings! The subtle sparkle and simple silhouette remind us of a few different pairs of 1928 earrings. After all, isn't vintage glamour what we do best?