I don't know about the rest of you, but when I hear the term "American Sweetheart" I can think of no one else other than the one and only, Jennifer Aniston. Even after all of these years in the spotlight, she still manages to have a fresh face and is always ranked in the top 3 of most requested celebrity hair styles. Let's face it, didn't we all want "the Rachel" at one point in time? Well now that she's chopped her locks and taken on a very different role in her newest flick, Horrible Bosses, Jennifer Aniston is still the same all American icon we know and love.
Another static thing about Aniston is her fashion sense. It is classic, subtle and definitely on the understated side. You will not see her in the bright purple gown Zoe Saldana wore to the Oscar's last year, but I don't think it's fair to call her style boring either. It's just perfectly chic! After time and time again of seeing her in an LBD or a neutral colored gown, this past weekend was no different when she was premiering Horrible Bosses in London. However, for staying with simple black and white, I seriously love her choice to rock a bad girl vs. good girl vibe at the different events to make her looks seem more extreme than they really are. And while, in our opinion, she was a bit under-accessorized, we still picked out some fab finds for you to get Jen's look without paying a pretty penny for it or chopping your hair to the newest edition of "the Rachel."
First came the photo call in London for the movie where Aniston rocked an updated version of the LBD. The leather mini dress by Celine showed off a little bit of the naughty character she plays in the movie, but her charming smile took all of that tough-girl attitude away! Simply paired with Gucci heels and an unexpected bracelet combo (that I am dying to try out now!), Aniston looked better in this all black ensemble than her usual red carpet looks. I was so inspired by the matte black and simple gold band bracelet duo, that I plan to try the same kind of style with 1928's Gold Engraved Link Bracelet and our Bonne Nuit Oval Links Bracelet.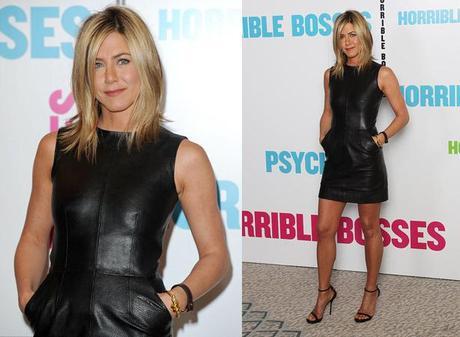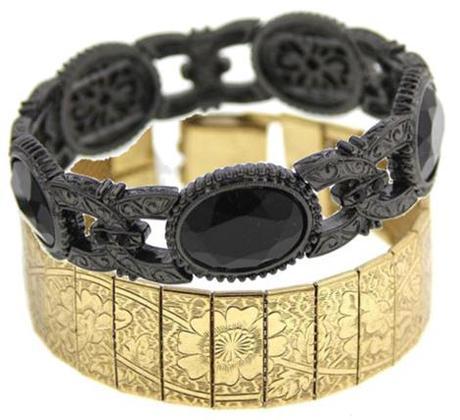 After showing off her more sultry side, Aniston went for a heavenly Valentino Haute Couture number at the London movie premiere. The off-white beaded dress was fresh off the Parisian runway and looked even more girly and frilly paired with those Tom Ford heels. Again, light on the jewelry, Jennifer packed all of her glitz and glam into her earrings! While we didn't get a great glimpse of the silhouette of the earrings, we sure did catch their serious sparkle and think they were the perfect choice for a dress so divine.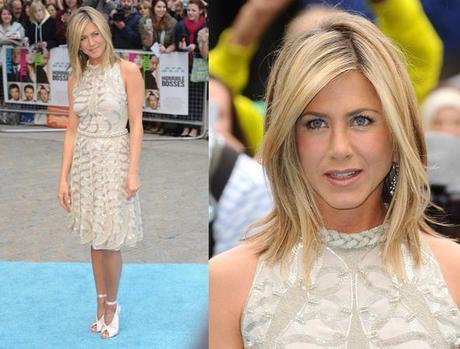 You can get a pair of earrings with the same radiant allure from 1928 for only $27.50 as the two styles below are currently half-off! Gorgeous chandelier earrings look great with every type of evening wear from cocktail dresses to black-tie affair gowns, so they are a fabulous thing to invest in, especially for such a fabulous price!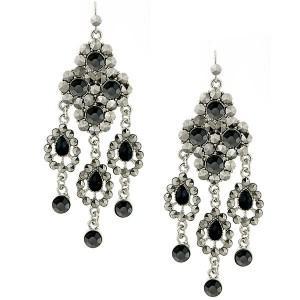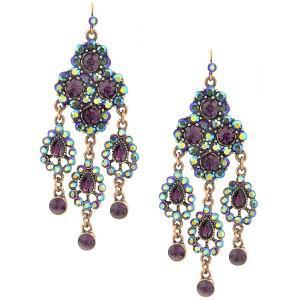 Have a fabulous Friday!!!